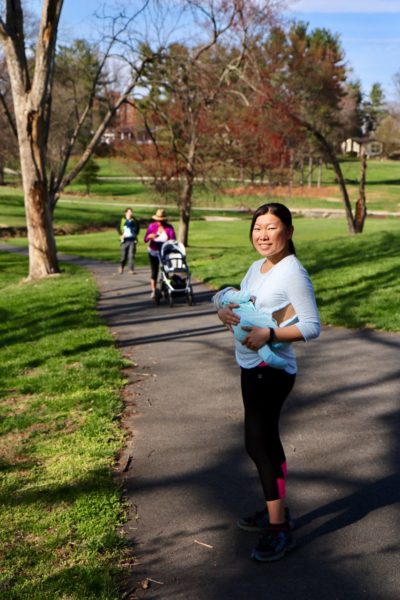 We took advantage of the beautiful weather today and walked to Lake Anne with our friends B&D. It took a bit for them to get here with their seven months old boy. We were just thankful that they were willing to come to us since we are quickly getting up to speed on just how hard it is to get out of the door with a small baby. Even the simplest outing can be a huge production. Besides, we weren't ready to get anywhere fast ourselves with Owen's long and frequent nursing sessions. I am becoming more accustomed to them, even gaining a bit of patience. Instead of a late brunch as we had planned, it was somewhere between lunch and dinner by the time all six of us were ready to get out.
I had wanted to try out their soft structure carriers but none of them seemed to fit right for me or Owen. The little guy wouldn't stop crying in the Lillababy. Maybe he is still a bit too small without an infant insert. Instead, I stuck with the K'tan. It's a cozy fit for small babies but not great for a walk of any significant length due to the stretchy fabric. Like all the other times I had gone out with it, I ended up hand carrying Owen back from the lake.
The walk was just over three miles round trip through different neighborhoods and a golf course. It was nice to catch up with company. Watching their older baby is like peering into what may be waiting for us down the road with our little one. Owen had slept most of the way there. By the time we settled down at Café Montmartre for a late lunch it was feeding time for the little guy too. I loosened up the K'tan and Owen managed to twist his head down low enough to nurse. Just like that, we ate lunch together as a family. It didn't occur to me until later that this was our first time eating at a restaurant with baby Owen. He did wonderfully, not even a peep!