Having battled with fever on and off for over a week I finally checked into the ER with 105F fever on yesterday afternoon. My blood pressure was in the low 70s, heart rate elevated at 140. I was immediately given a series of blood tests and chest x ray for pneumonia, and hooked up on IV fluids and antibiotics. While the lactation hotline we have access to is already closed after hours, my midwife was able to confirm with a lactation consultant that Rocephin is a L1 medication that is compatible with breastfeeding. I continued to nurse Owen with Peter holding him up to my breast. It's a blessing that I have been in constant contact with my midwives since the delivery. Their continued care and support is something I never expected but am extremely grateful to receive.
When none of the blood tests, urine sample and chest x-ray presented any abnormality, the doctor ordered a cat scan for potential blood clot. The dye used for the scan is Isovue-370 with iodine. The doctor recommended pump and dump for 24 hours. My thoughts immediately went to Owen, what is he going to have until then? They took me for cat scan right away and I received the dye at 8:30pm and completely the scan ten minutes later. I then contacted B&D to see if they had extra expressed milk in their freezer they could spare for Owen. They had none but D offered to pump right away and have B delivery to us by 11pm. Although Owen nursed until 8pm, he didn't have a full feeding before falling asleep again. There is no way he would last until the milk gets here. Instead, Peter decided to take him home to give him the measly 2.5 ounces of expressed milk we have in the freezer. I never got into pumping thinking that my fevers might have been caused by mastitis and I didn't want to pump to further increase my supply. Thankfully we live close to the hospital and Owen took the bottle ok. Peter then met B outside of the ER just before 11pm with all the express milk they had at home, including the ounce that was just pumped, about 8 ounces all together.
By now I had been transferred from the ER to Progressive Care Unit. Owen was crying when Peter brought him into the room. The little guy stopped crying for a minute while I held him. He looked and me and had his little mouth wide open waiting for a nipple to show up. When that didn't happen he started to cry again. It was heartbreaking to not able to nurse him. I kept saying, "mommy is so sorry. I can't nurse you right now. Daddy is getting your milk ready." I couldn't hold back my tears. It was devastating. Without a definitive diagnosis and course of treatment, it was clear that I will be staying at the hospital for at least two more days. I was being put on an aggressive concoction of antibiotics, 2-3 different kinds at the same time. Levofloxacin, Vancomycin, Piperacilin and Tazobactam just to name a few. It was hardly possible to keep track and check on the possibility of breastfeeding. This painful realization set me off on a mission to ensure Owen has milk at home until I can nurse him again.
I reached out the only other breastfeeding mom I know in the area, a lady we met at the last LLL meet up with a three months old baby girl. Even though we only briefly met once, she responded to my message with such care and warmth it was as if she has been a long time friend of ours. While she didn't have any expressed milk due to the fact they're still trying to sort out her daughter's food allergies, she offered to express a few extra ounces for us the next day. Sure enough, she messaged me this morning and delivered almost 8 ounces to our apartment by 1pm today.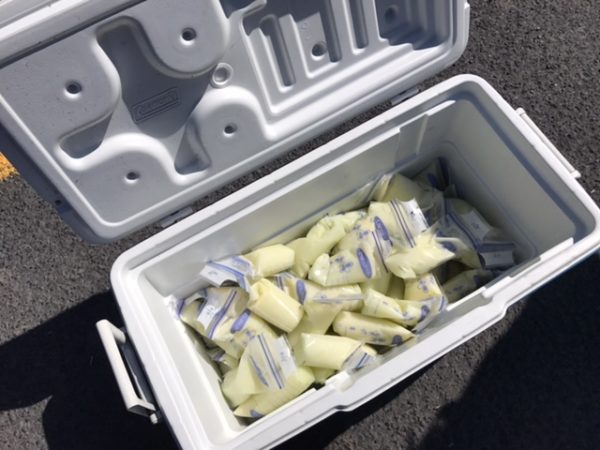 Peter already had to supplement Owen with formula this morning. I knew if I want Owen to continue to have breast milk then I need to spread the word for more help. I posted an request on Human Milk 4 Human Babies for local donation and mentioned my concern to my midwives. Within an hour, my midwife texted me a picture of a cooler full of frozen expressed milk! They had posted a request on their Facebook page and received an immediate response! The milk was over an hour from our place but we were able to arrange for Peter to meet up with one of the midwives near our home. By the early afternoon, our freezer was full of expressed milk! A number of moms also offered to help on Human Milk 4 Human Babies.
This overwhelming outpour of support from friends and strangers is the only blessing on this otherwise dismal day. My fever returned last night over 104F. I shook uncontrollably for an hour crawled up in fetal position. It was so miserable. I couldn't get any sleep. I miss my baby so much that there were moments when I thought if I had one dying wish it would be to nurse my baby at home again.