They say babies are social creatures. So far Owen has been mostly socializing with us. When some friends from NC announced that they'll be parked at a campground in MD for a few days, we decided to join them for a quick visit. We left our place in the late morning, stopped by the waterfall at Scott's Run Natural Preserve, got lunch takeout from my favorite Chinese restaurant in Rockville (Peter Chung), ate it in the car while nursing Owen and arrived at Ramblin Pine Campground in MD by 3pm for my afternoon IV. A pretty productive day in my book!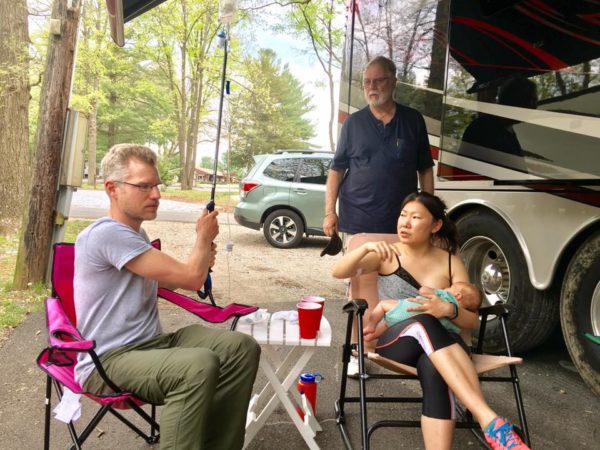 Of course, Owen was a big hit with everyone. Having handled dozens of babies through the years, Grandma V was like the baby whisper. She had a way of beating the air bubbles out of the little guy by seating him on her lap and shaking and pounding at the same time. Owen didn't know what to do with himself except to sit there compliantly. And sure enough, the bubbles always came up and Owen seemed more content afterwards. Really wish we had known that trick sooner. There was really no way for Owen to take a nap with all the attention and commotion around all afternoon. He pretty much passed out by the time I started my evening round of IV at 11pm.
The campground wasn't exactly all that scenic or exciting. There were small lots filled with RVs packed next to each other like sardines. We had upgraded my old tent (Fly Creek UL2)  to a new Big Agnes Cooper Spur UL3 immediately after the last trip. It is one of the most highly rated and lightweight three season tents for three people. With very limited space, we had to pitch our tent in between my friend's RV and the RV at the adjacent lot. We were literally between two running engines and under a giant outdoor light. There wasn't even a patch of grass to be found and I had forgotten to get a ground sheet. Not wanting to damage the tent on the first night of camping, we borrowed two inflatable mattress to put underneath it. As we settled into the brightly lit tent for the night, we can't help but to laugh at how unlikely this camping experience is. Peter said one of these RVs is like the size of three European RVs. I don't doubt him. P&V upgraded their RV a year ago and now the inside is like a small luxury home complete with full size fridge, electric stove, dish washer, a large TV, queen size bed (?) and one and half bathrooms. The thing look rather intimidating to drive but I'm sure it's comfy to have while traveling on the road.
The new tent was great, roomy and ventilated. However, our Expad Duo inflatable mattress is not designed to fit two people and a baby side by side. We eventually fell asleep with me in the middle and Peter and Owen on each side of me. I had to stay on my side for most of the night. There wasn't any room for Peter to turn or move either. Owen was dressed in a soft wool overall with a thin baby blanket on top. Peter and I shared our heavenly down blanket from Enlightened Equipment. We just have to think about bringing a foam pad for Owen next time.