I woke up this morning feeling not exactly refreshed but at least I'm alive. The weather was cool and cloudy, perfect for hiking. But we're not on the trail yet. I desperately need the day to recover.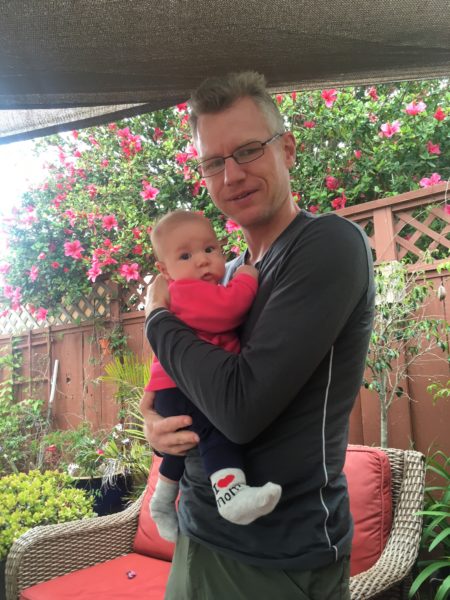 We're staying with my friend, Scott, near Ocean Beach. I had stayed here on my own as an Airbnb guest five years ago. Scott introduced me to his family and took me kayaking. After I went home I sent Scott the book Zero Days, about a family's adventure on the PCT with their nine year old daughter. I told him when I hike the PCT someday he's going drive me down to Campo. We talked about me visiting SD a few times throughout the years but nothing ever materialized. Now I'm finally back with my little family for that ride to Campo. Scott was more than happy to help us to get started on our journey. He picked us up from the airport yesterday and took us to the Navy Exchange to get a few last minute items we needed for the hike.
It is so nice to come back here to visit an friend. Everything is exactly how I remembered it, the blue tiles in the shower, the hot tub in the backyard, the dog, the cat, the steep hill out the front door that goes directly down to the beach. I could see the ocean from the balcony yesterday but was too sick to go out. This morning we stopped by Lazy Hummingbird for coffee on our way to the pier. Most of the store were not yet open, making the place feel like a sleepy beach town. It was refreshing to breath in the cool ocean air. There were a handful of surfers out on the water in wetsuits. A couple of locals walking their dogs. We lingered for a bit. It might be a while before we could see this much water again. My thoughts were consumed with images of hot and dry desert, spiky cacti, rattles, bugs and mosquitos around tiny creeks.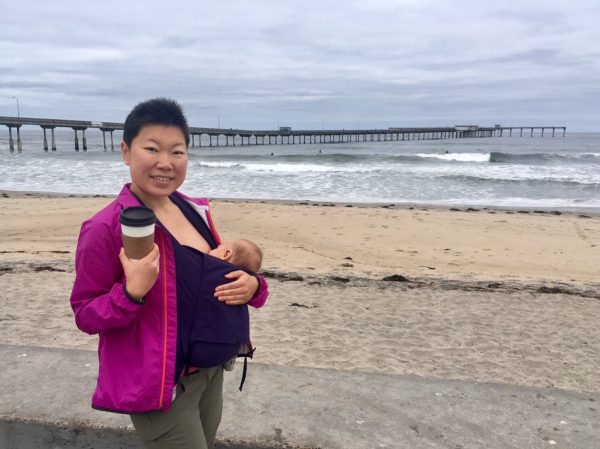 We took it easy the rest of the day, taking turns to soak in the hot tub and to enjoy the outdoor shower. We'll have to get these when we have our own place, said Peter. "Forget about the desert," we joked, " let's just stay here instead." But the trail is beckoning. We are both anxious to get started.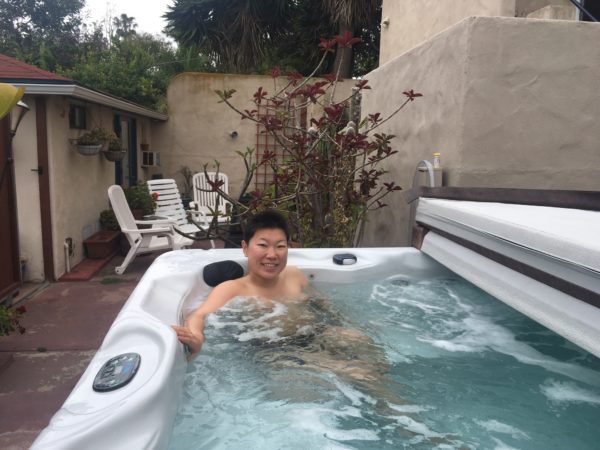 I ate a couple of small meals to not upset my stomach and tried to drink as much water as possible. Peter studied the map and water report for the next few days. This is not the ideal time to start in SoCal. Temperatures are raising. Seasonal creeks are drying up. I had meticulously reduced our pack weight the best I could, just short of cutting off our toothbrush handles. Whatever little weight we saved is filled up with water. It's better to carry more water and walk slowly than having to hurry under the stress of running out of water. Too many hikers have made that mistake. Even though we should find water at mile 6.6 we still filled up as much as we can carry: 5.5 liter for me and 7 liters for Peter. We'll be filling up again at the first water we find.
We studied the map some more to label potential campsites on the way to Mount Laguna. The first day will be hard but hopefully the next three will ease up. After all 42 miles is really just a short hike for us. Nothing we haven't done before.
LC