If you saw a topless woman nursing an infant on the side of the road would you pick them up?
"We need to get an early start to get some miles in before it gets too hot." "Yeah, let's get up early then." "If we really want to get going early we can skip coffee. That way we'll have less stuff to pack up." "Ooo that's going to be hard."
I left camp with Owen around half past six. No coffee, no breakfast. Peter stayed behind once again to pack up and catch up to us. We camped at PCT mile 23 last night. 19 miles until our first resupply point in Mount Laguna. It doesn't sound like much, less than ten a day when divided over two days. But I know once the sun is up I'll be moving at glacial speed in need of frequent water breaks. I'm constantly thirsty just nursing Owen at home. It feels impossible to stay hydrated on the trail.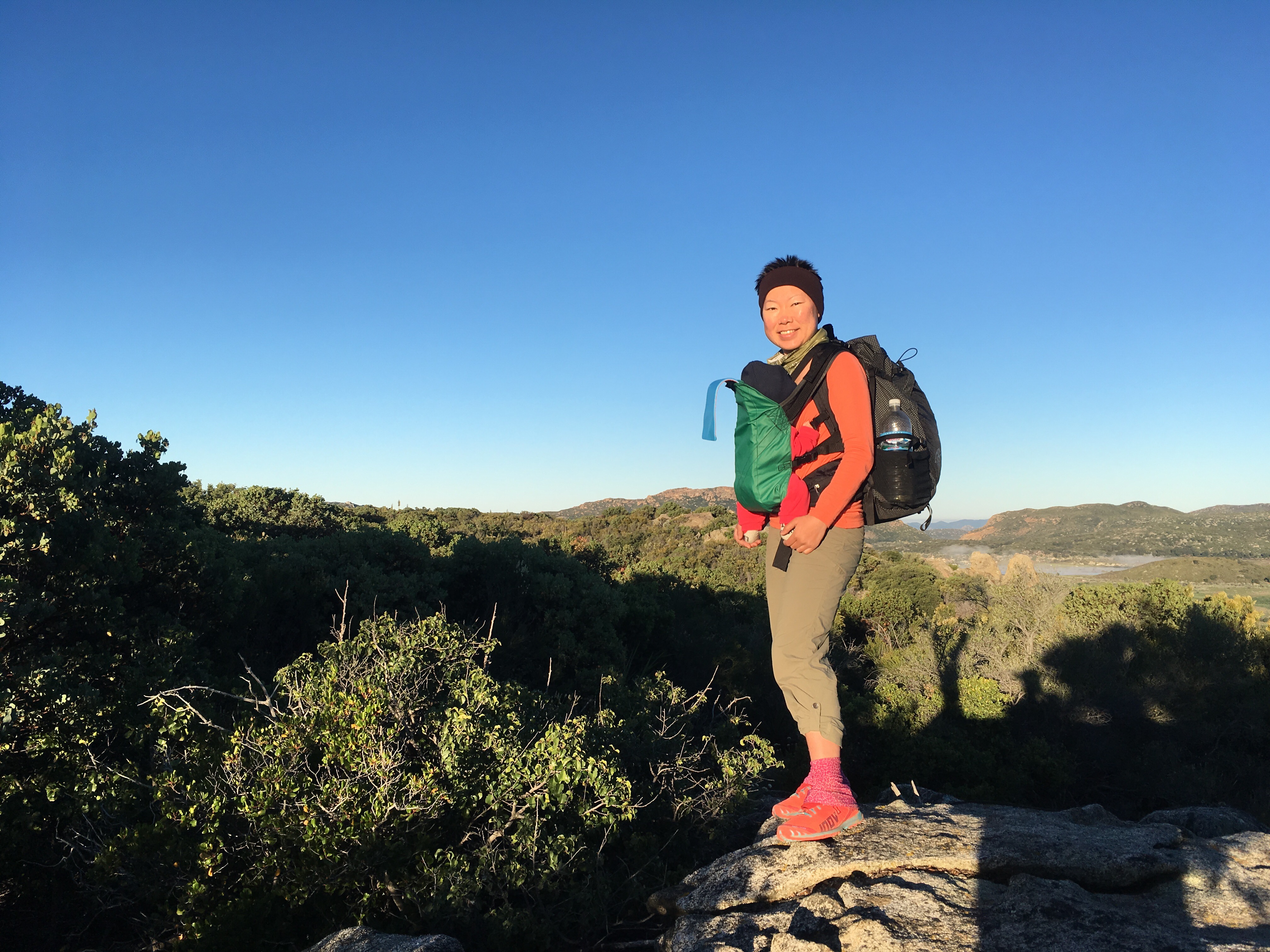 Denise from Denver caught up with me just as I got started. He camped a half mile outside of Lake Morena campground last night around mile 21. The morning was cool and calm. Perfect hiking weather. We hiked together at a brisk pace, going down some boulders with last views of Lake Morena. Once we reached a seasonal stream crossing at Buckman Springs Road (mile 24.1), Denise decided to stop and fix some blisters. I got my first blister under the ball of my left foot after day one. Although the gaiters help to keep some sand out, my breathable trail running shoes are letting in quite a bit of dust. That, sweat and heat is a perfect recipe for blisters. Thankfully mine wasn't bad and seemed to have popped on its own. I put a bandaid over it this morning. It's still noticeable but not serious enough to slow me down.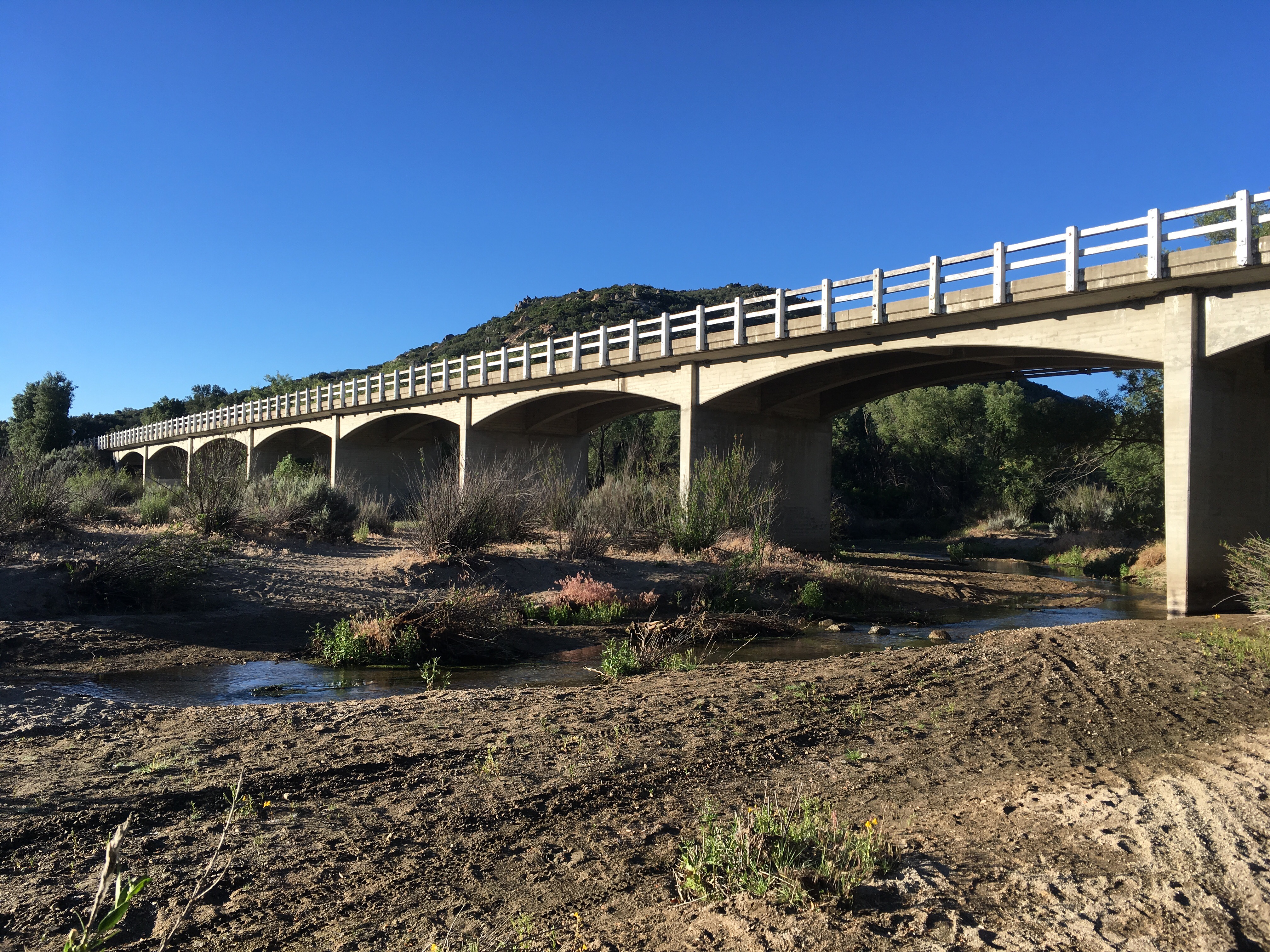 I quickly ate a Kind bar and moved on. A mile today is a mile less tomorrow. A mile in the morning is a mile less in the afternoon. I realize the obscurity of this rationale. Out on the PCT the miles seem unlimited. Still, I'm going to stick with whatever it takes for me to keep going. This works for now.
Peter caught up with me at the second stream crossing at mile 25.5. We took a water break and let Owen out to go to the bathroom. This routine is working out well for saving diapers. We're officially averaging less than five dirty diapers a day using this method and reusable nursing pads as pee inserts. We moved onto Boulder Oak Campground at mile 26, where for the first time we picked up good signal for T-Mobile. I uploaded pictures to social media and two blogs from the last two days. It took a lot longer than I had intended. By the time we climbed up the ridge it was already scorching.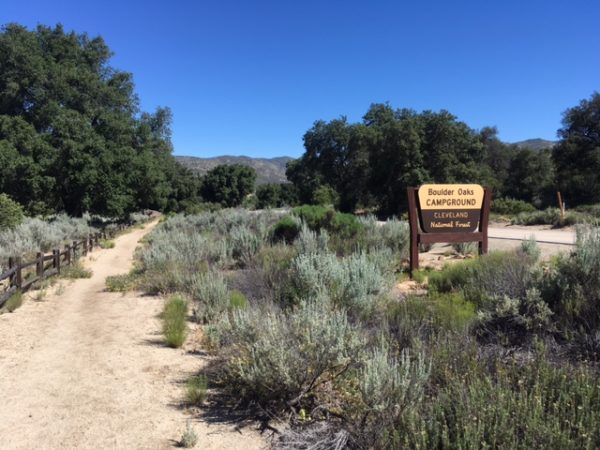 We followed along interstate 8 below for the next couple of miles. I was surprised to see so many day hikers along the way. Unsure where they came from or going I finally asked a young couple. "There's a waterfall ahead," the guy answered. Oooo, under the merciless sun I lit up with the thought of cooling off under a waterfall. Peter and I both thought it would be a good idea to go there and wait out the hottest time of the day.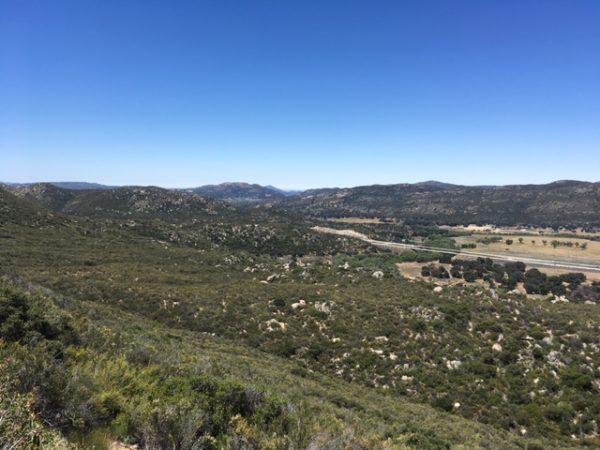 The waterfall detour turned out harder than we thought. It must not have been a popular CPT hiker hangout. Neither of our maps, Halfmile and Guthook, had clear indication on where it is. Somewhere between 28 and 29 miles we had passed a trail going down to the creek. We backtracked a few steps to the trailhead only to find ourselves on a gradually more steep and overgrown trail. I got worried and switched the umbrella for trekking poles for balance. It didn't take long before I started to get concerned about how we're going to hike backup with Owen. I can't see where I step with him in front of me. The plants were sharp, cutting through the back of my hand as I pass them. "Do you want your gloves?" Peter asked. "No, I'm worried about Owen. I don't care if I'm getting cuts." My irritation worsened as we got farther down. Finally we get all the way down and there wasn't a lick of shade anywhere to be found. A family with a young boy frolicked in the water. They looked as happy as I was miserable.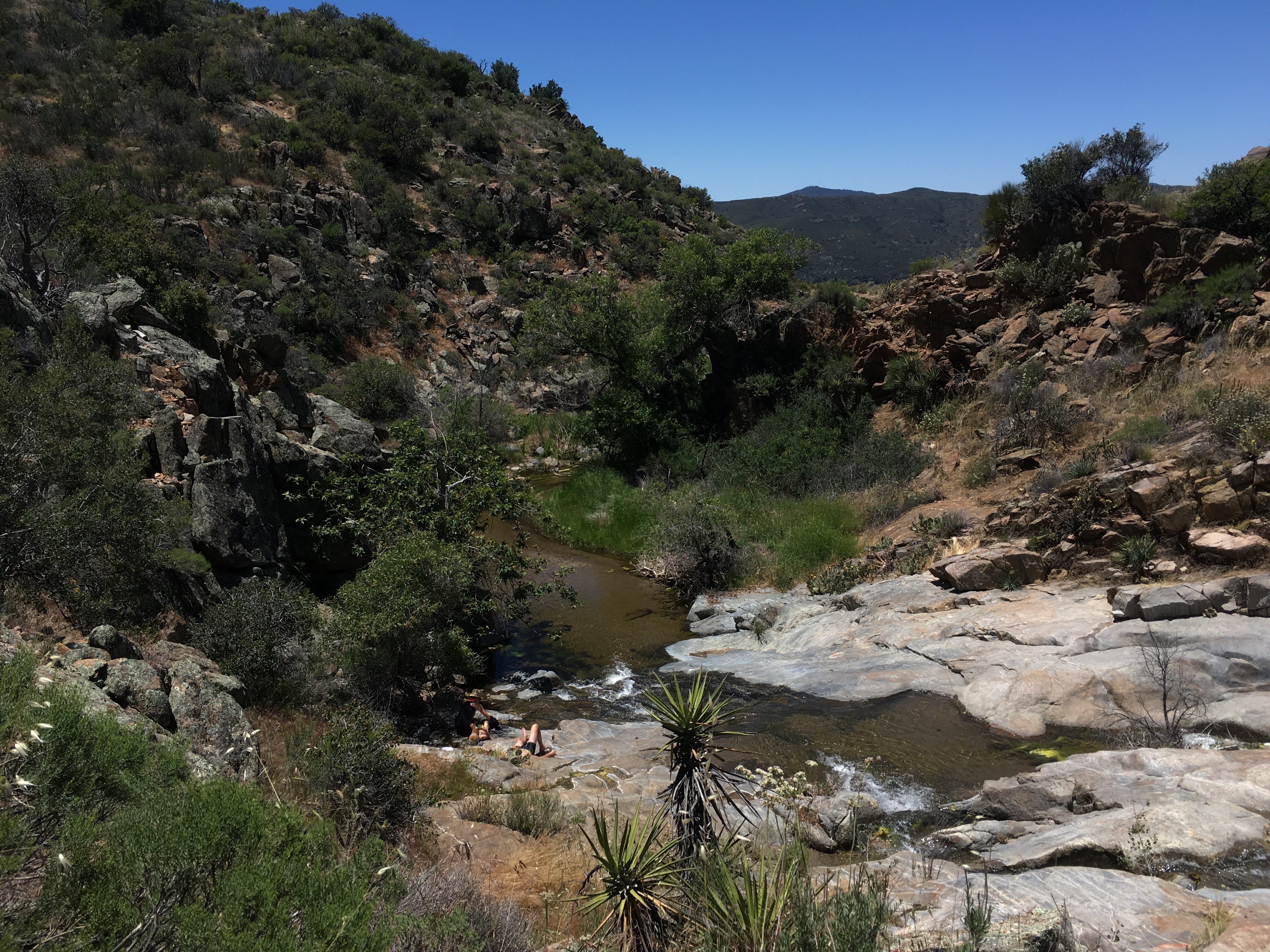 We were near the hottest time of the day with nowhere to rest and miles to go before the next campsite. "We need o hike up now," I said to Peter, "I don't want to be stuck here without shade and a comfortable place to sit for the rest of the afternoon. It's too much sun exposure for Owen even with the amount of time it would take to hike back up to the PCT since I can't hold the umbrella and poles at the same time." There was panic in my voice but Peter said nothing. I asked him to wet my hat and a white towel to drape over Owen. The water felt cool but only for a short while. I hiked up the best I could, holding branches away from the baby carrier.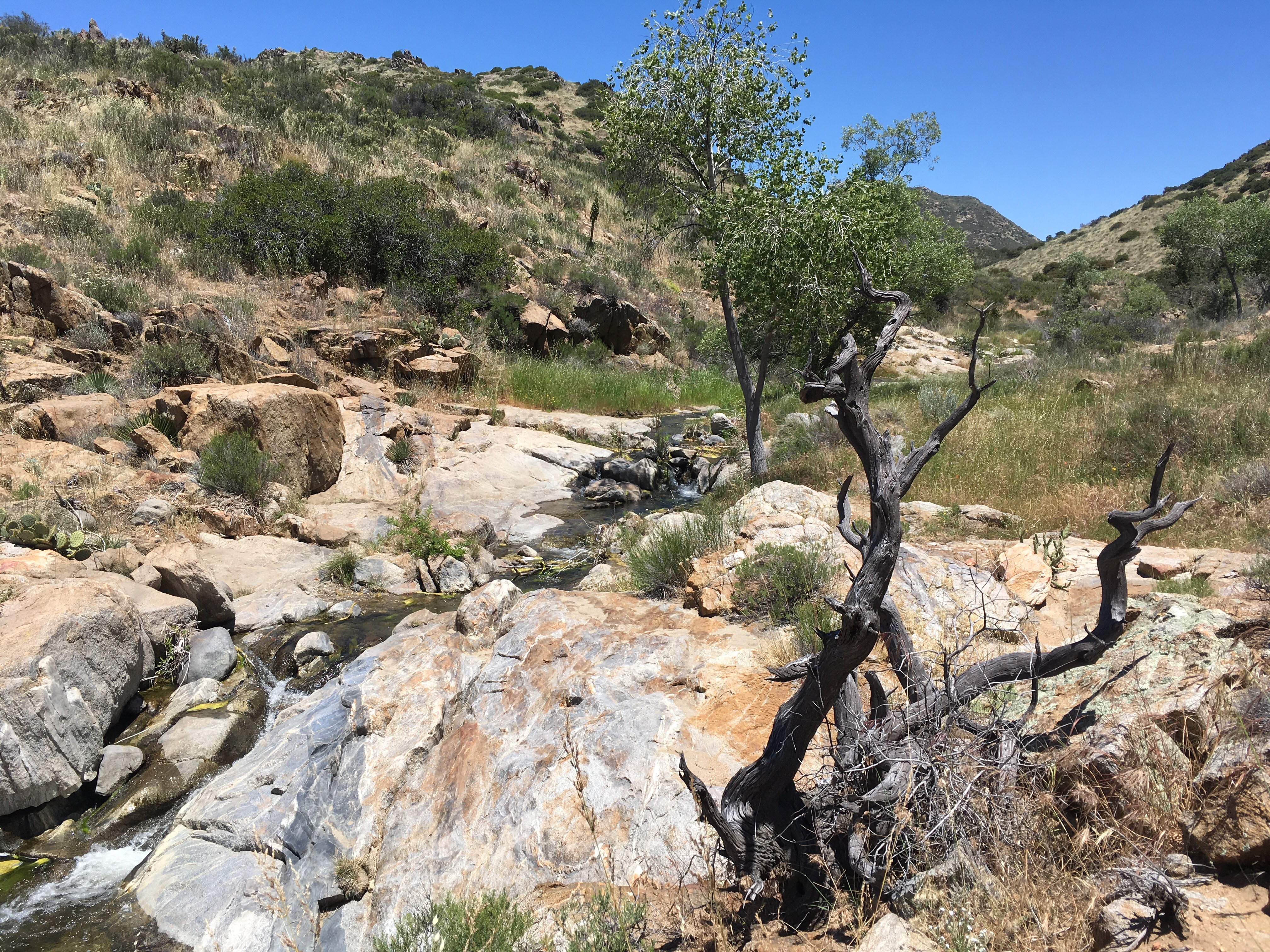 By the time we got back on the trail I was fuming at how Peter had not expressed any concern over me or Owen. Again, it's hot and dry with intense sun exposure and wind for all three of us. I was starting to deteriorate, probably from not eating enough. Our next campsite is at mile 32, a little over three miles away. That distance is nothing, but under these conditions I started to wonder if I could make it. I was worried sick that Owen might be overheating even though he didn't show any symptoms other than his cheeks turning red. I've been nursing him on demand all day while he sits in the carrier. I keep reminding myself that people in hot, dry and windy places have babies too and they breastfeed their babies to keep them hydrated. I had recently read an article about refugee moms are encouraged to breastfeed their babies to keep them healthy. Well, if moms can keep their babies alive under those conditions we can make it through here, right? Owen knows when he needs to drink. As it is often the case, none of my internal dialogue brought any comfort or reassurance I desperately needed. So I turned to Peter. "Aren't you worried? Why haven't you said anything?" I shouted. An angry exchange resulted with me suggesting that we should hitchhike to Mount Laguna from Kitchen Creek Road at mile 30.2 to avoid more sun exposure. Peter agreed and thought it was a good idea.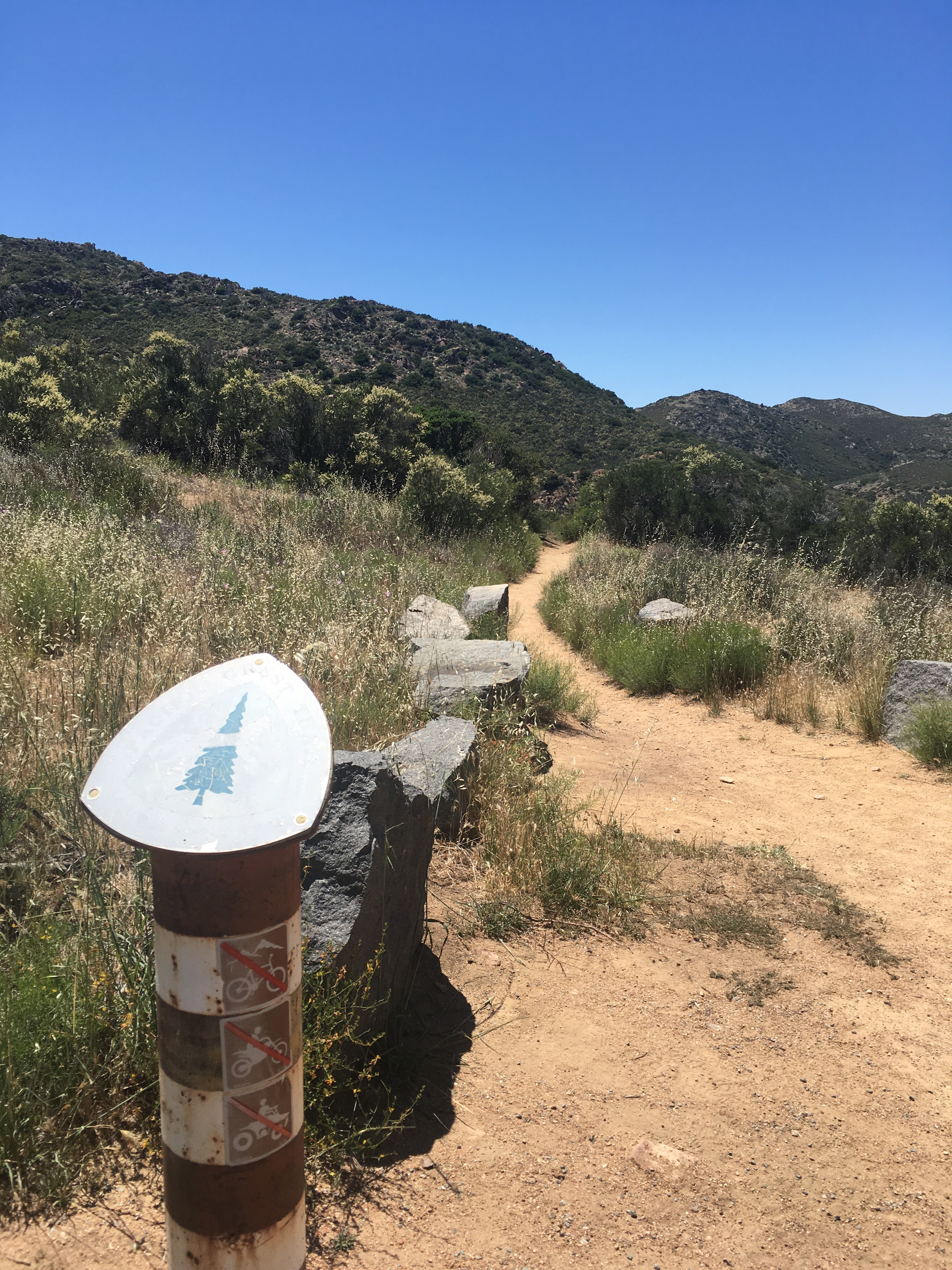 Hitchhiking is an essential part of thru hiking. People who send resupplies ahead often hitchhike into towns to retrieve their packages and/or treat themselves to a real meal. However, hitchhiking portions of the trail itself, instead if hiking, is very much frowned upon. We had no plans to do any hitch, even into towns, since it is illegal for Owen to ride in a car without a car seat in California (unlike some states with taxi exceptions). But we are not some PCT purists, I said to Peter. It is hard for us as it is. I want to do whatever is easiest for us to get through, including staying at hotels and getting real meals whenever we can. This is not how we would do things for the two of us but we need to make accommodations for Owen. For one thing I need to be hydrated and nourished to feed him. I don't care what others think about our hike, our wellbeing is the most important. We are here to have fun, not to prove anything. At this point anything we do is an adventure.
With relief in sight I hiked on with a renewed optimism towards the road. A light colored snake with dark stripes crossed in front of me. I have no idea what kind it is. We waited until it went into the bushes and passed by without any incident. Peter stopped half way to get water from the creek in case we can't get a hitch and have to continue to hike to the next water source at mile 32. There were four vehicles parked at the lot by the road but no one around. I stood on the road for a while. No cars passed by. This might take a while, I thought, but surely, someone will come by. Soon Peter joined me at the side of the road.
Within a few minutes a small two-door car pulled over with a young couple and a husky pulled over. I didnt think they could give us a ride since there was no room anywhere to fit us. I told them we are looking for a ride into Mount Laguna. They had no idea where that was and started to quiz us. We're out here hiking but want to get to Mount Laguna to get out of the sun, I said. Where did you start? We walked here from the Mexico border. Are you from Mexico? No, we are from Virginia Where is your car? We don't have a car. How did you get here? We walked. You walked? Yes.
They still looked confused. I told them we can continue to look for another ride but the women seemed reluctant to leave us on the side of the road. "Get in. We can move some stuff to the back. We'll give you a ride." The guy was less enthusiastic. He was more looking forward to join his friends for camping nearby. Still, women get to call the shot and today we're lucky to have her in our side.
Peter sat in the front seat with both of our packs. I squeezed in with Owen in the back next to the woman. In an attempt to cool down while hiking, I had took off my shirt and wore only sun sleeves on my arms and the baby carrier in front. I hiked the same way for part of the first day and ended up with a sunburn on my left boob. But today I used the umbrella so no sunburn anywhere. I didn't have time to put on my shirt before the car stopped so I was completely topless once the baby carrier came off. I have to say it was a bit awkward but no one seemed to mind.
We were less than nine miles from Mount Laguna by foot but the drive was much longer since there was no direct road access. We got back on the section of interstate 8 we had looked over all morning from the ridge then climbed up a winding road to our destination. The ride took about a half hour. I offered the couple gas money but they didn't take it.
I thought our journey for the day was over but before I could even take a breath of relief things turned once again. All of the the rooms at the lodge were booked due to it being Memorial Day weekend. We inquired about other nearby places to stay but the innkeeper wasn't too eager to help us. We had no phone service and the innkeeper refused to let us use the wifi without being registered guests. I started to get a bad feeling about the place. Meanwhile Owen needed a change. A lady overheard me talking to Peter and offered me to use her cabin to fresh up. She is hiking the PCT as well, just taking some time off at the lodge to wait for her husband to join her from Wisconsin. The innkeeper saw me going to the cabin and mumbled something to her I couldn't hear. "Are you getting into trouble?" I asked "It's ok to get into trouble for helping people." She answered. I hope to remember to teach Owen that someday.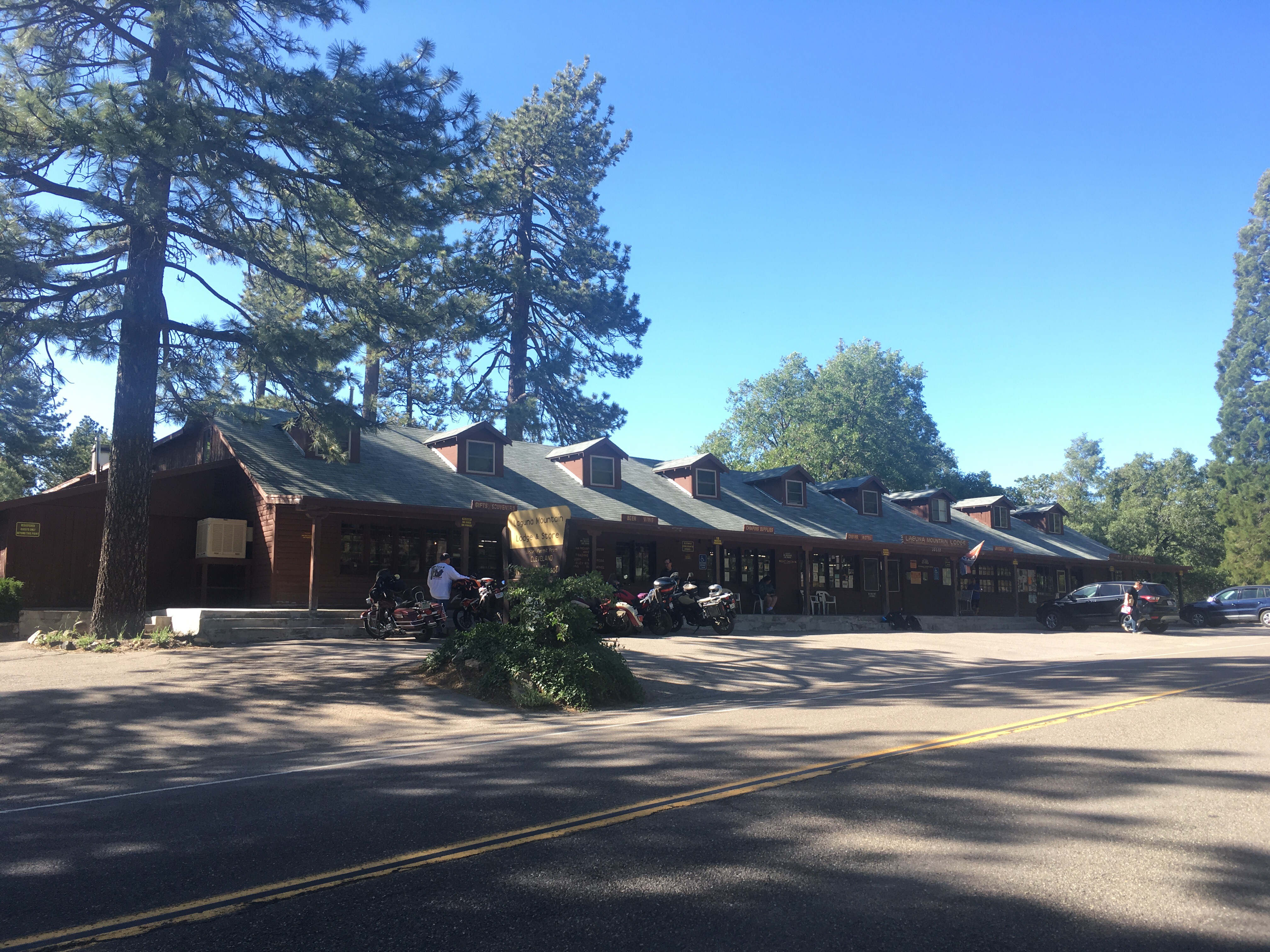 The day is winding down and we needed to make decisions quickly. The room at the other lodge around was more than what we wanted to pay for. The only other business around is a gear shop that offer hikers shake downs to swap out their heavy equipment for a lighter and more expensive version. The shop is small but fully stocked. I saw lots of the same things we have in our pack. The guy behind the counter wasn't all that warm and fuzzy but he was helpful. The closest town over is Julian. I had read on FB that a lady there let hikers sleep on the floor of the restaurant after it closes. The storekeeper was able to track down Carmen's number online and let us use his phone for the call. Carmen said we're welcome to stay but there isn't anyone around to pick us up. Like the night Jesus was born there wasn't any room available in Julian either. A lady at Mount Laguna drives hikers for $2/mile or $75 total to Julian. Neither of us could swallow that price.
We could stay at a campsite in Mount Laguna or hitch to Julian to sleep on the restaurant floor. Not feeling the love where we were we decided to hitch. I felt like we needed to go somewhere with wifi or phone signal to sort out our next step.
The second hitch was much harder than the first. I asked a number of people in the parking lot but none were going to Julian. As we stood on the side of the road the lady we saw earlier came over and asked if we needed money to get a room at the lodge. "I don't want to see you guys not to have a place to stay for the night," she said. "Many people have helped me." We gratuitously declined her offer. It wasn't that we couldn't afford to stay or to pay for a ride. Somehow those two just didn't sit well with us. So we waited. As the store at the lodge closed a young guy pulled out from the parking lot. Unexpectedly he asked if we were hikers. "Yes we are" "The PCT? With a baby?" "Yes." "You need a ride?" "Yes, to Julian, we can pay for gas" "Sure, I can give you a ride. I hope to hike the PCT someday myself!"
The guy also offered us a space to pitch our tent on his campsite for free. In the end we decided on Julian. The guy won't take our money so I left a 20 in his cup holder. We chatted excited along the way about traveling and how Peter and I met while hiking. "You have to do those things while you're young or you'll end up like me carrying a baby around." The ride to Julian was longer than I thought. We felt so thankful to have run into the guy just before we call it quit.
Julian is a small town. Carmen's Garden is just I had imagined, laid back and hiker friendly. We got our free hugs as advertised. Shortly after I inhaled the best burger ever. So glad we came.