Hydration for two is a serious business. I wonder how much water it takes to make an ounce of breastmilk.
This morning Peter ate his breakfast (two eggs and ham on English muffins with cheddar cheese sauce and fried potatoes), half of my breakfast (a pancake and sausage), a slice of leftover pizza, a banana, and half cup of yogurt. Carrying all that stuff must have made him hungry!
The hotel shuttle took us 1,100 feet up from Idyllwild and dropped us off at the trailhead for Devil Slide Trail (6,400 ft). Tahquitz Rock is clearly in view from the parking lot. From there we must climb up to 9,700 over 5.5 miles and then a one mile descend to 9,100 ft to camp at Round Valley.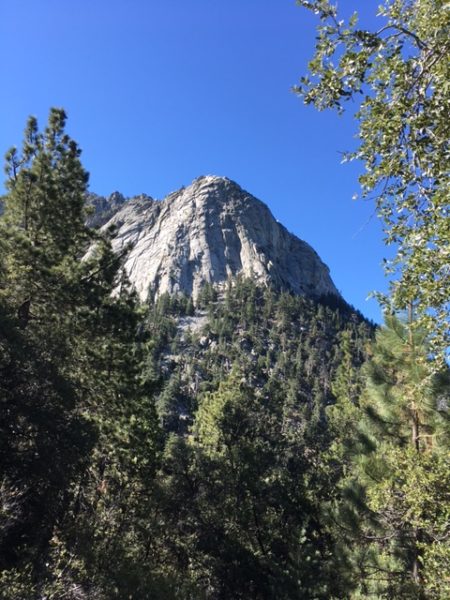 A 6.5 mile day usually isn't much but the feeling of utter exhaustion from all the hot sections still have me worried, mostly for Owen. Peter stuffed bulk of the heavy stuff in his pack. My pack felt balanced with Owen's weight in the front, probably 30 pounds total.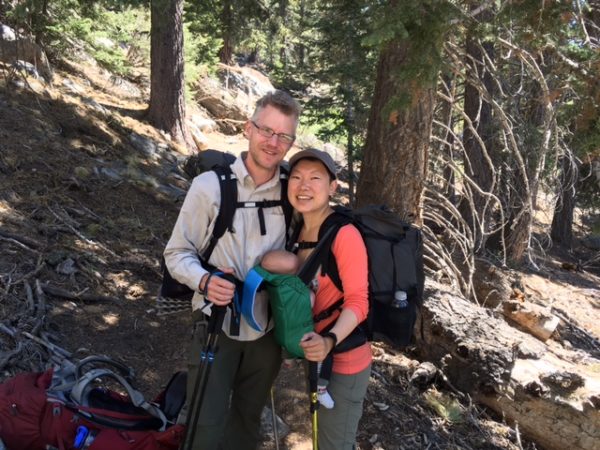 We climbed the steady climb steadily, in search of cool mountain air. The weekenders have all left town. The trail was quiet and peaceful. For much of the first 2.5 miles we had a clear view of Suicide Rock to one side. I would recommend that they have a suicide hotline box there and change the name to something more upbeat.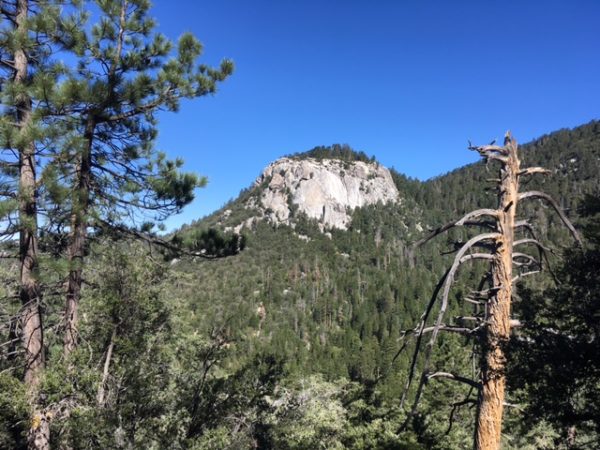 The Devil Slide Trail connects to the PCT at Saddle Junction (PCT mile 179.4). From there the trail gets a bit more steep until it meets the Round Valley Trail. The cool breeze didn't get to us until 8,500ft and at 9,000ft we saw our first tiny patch of snow.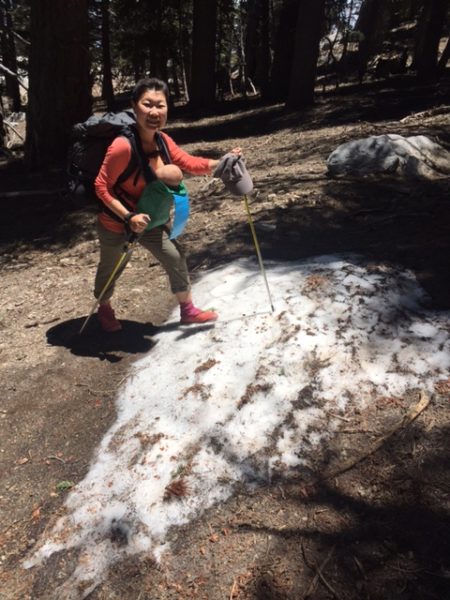 Owen slept for most of the way up, even snoring through some sections. We stopped twice for potty breaks. When he is awake he looks at everything intently, really truly for the first time. It's both entertaining and inspiring to watch him.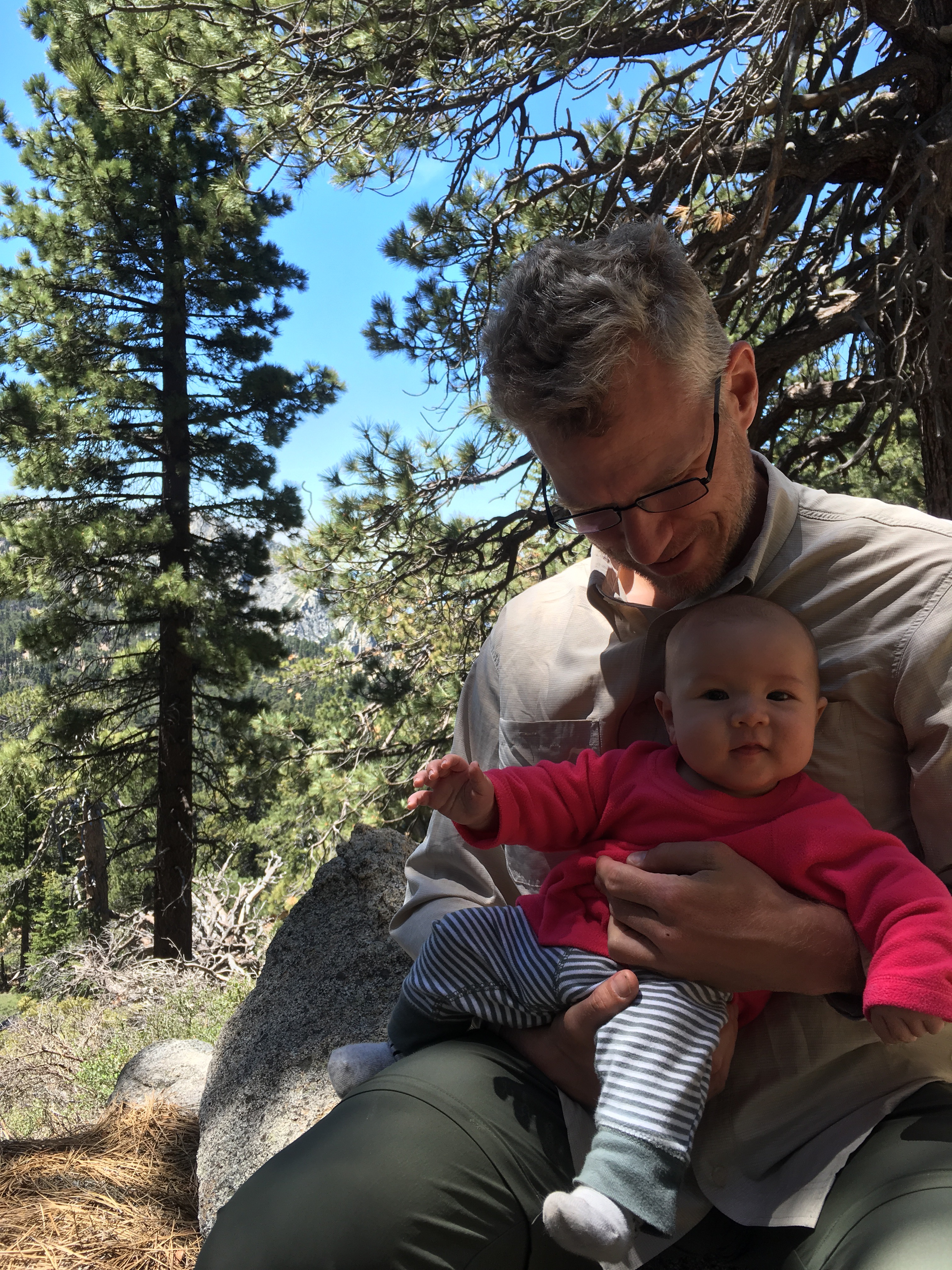 Today's hike was a good one, something my body and mind could make sense of: moderate temperature with intermittent breeze and shades, even my shoulders felt fine. I moved extra slowly through patches with loose rocks to make sure I had good footing. Perhaps Owen is the one who is saving us from rolled ankles like every other hiker out on the trail.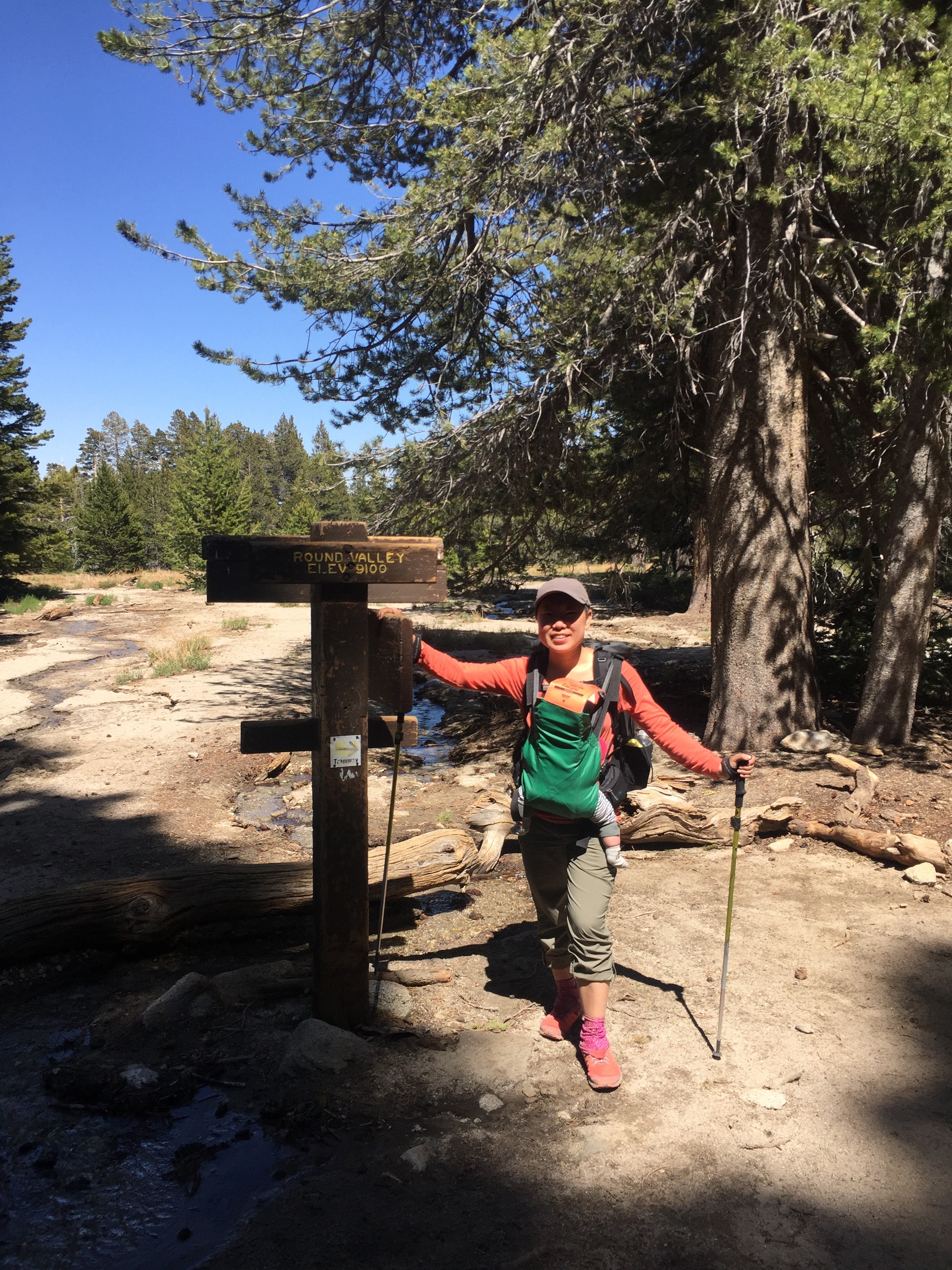 After the second Junction we took a one mile trail down 600ft to Round Valley camp. There's something really painful about loosing altitude knowing you have to come back to climb it again the next day. Camping here is by permit only, $5 per person. We had read it's very popular but had no problem getting one for a weekday. Finding the actual campsite was something else. We walked into Round Valley in the early afternoon but couldn't find any campsites. I was too tired to join the search party so Peter hiked around the parameter. There's no camping within 500 ft of the meadow. All camping spots are dispersed and hidden! We had to really study the map to find one near the ranger station. Once there Peter again did all the camp chores. We fell asleep before it was dark.