We camped at Lake Sabrina last night, 9,100 ft up. It was cold and windy. While our down quilt, rated for 20F, kept our bodies warm, our heads were still exposed in the cold. Owen lost his warm Swedish hat somewhere after Warner Springs so I kept trying to cover his head with clothes. He slept intermittently throughout the night. I had to prop myself up on one side to nurse him each time he woke up. The only part of me that got any sleep was my right arm. When the morning finally came I had an intense headache, a bump on the part of my head where I had propped it up all night and nausea. Owen usually sleeps warm at night so all our effort to keep him covered between us actually had him sweating a bit. We changed him under the blanket.
The temperature at 6am was 27F and windy. It was too cold to be outside yet I was too uncomfortable to be in it. Owen was also becoming restless. I decided to warm up the car and transport Owen from tent to the car. We all needed to warm up since we didn't prepare to be in this kind of altitude or temperature. Peter and I each had a thin wool underlayer, lightweight sweatshirt and a wind breaker. The setup is probably sufficient up to freezing if we're staying active. Owen has even less clothing except for the carrier cover we made for him.
We drove from the campground to Lake Sabrina even though it was a very short walk. None of us wanted to be outside. There wasn't a good way to keep Owen warm out there either. I wrapped him up in the carrier cover we had made. He looked comfortable for a while. Peter made coffee while I admired the scenery from the comfort of the car. The headache and nausea persisted. Not sure if it's the cold, the altitude or just lack of sleep. So much for hiking the PCT, now we're just sitting in the parking lot!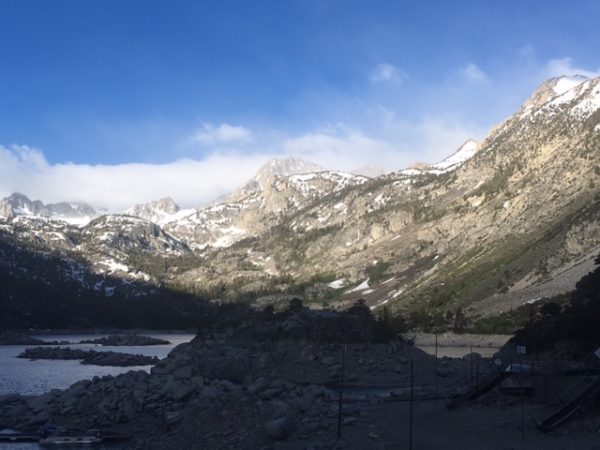 Just as the sun is started to make its way to us over the mountains Owen made a giant poop that went all the way up his back, soaking through his shirt and my pants. We turned the heat on high and changed him in the car. It was still too cold to go outside so we went back to camp to pack up the tent. Peter made some more coffee to keep us warm. With all the hot desert hiking we had forgotten how miserable it is to be in the cold.
We drove back to the lake again to take turns running up a small trail for some pictures while Owen sat in the car.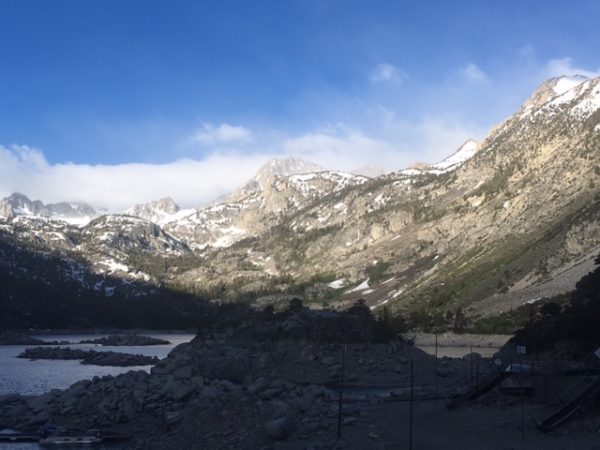 My nausea got worse driving out of the mountain. If it sounds like I've been getting a lot of nausea on this trip it's because it's true! I don't usually get motion sickness but sitting in the back seat with Owen has my stomach turning constantly. Once we're back to Bishop I had to run straight to the restroom at Von's. I felt so sick we decided to rent a room on Airbnb for the night instead of camping somewhere again. I found a pretty good deal in Mammoth Lake and the owner agreed to have us check in at any time.
After resting a bit and having some cereal in the parking lot we proceeded northward on 395. Not far outside of town we encountered the first hiker walking on the side of the highway. I had read about hikers doing this to skip the snow in Sierra. He was holding a sign for South Lake Tahoe. Feeling a soft spot for these poor souls I asked Peter to turn around to get him. Like the three other hikers we picked from Onion Valley the day before, this guy came out of Kearsarge Pass and decided he had enough of the Sierra for now. He plans to go up to Ashland and hiker south from there. I don't know if that's a wise decision since sections around Lassen and Dick's Pass are still very much buried in snow. Since most hikers are not there yet he'll also have a hard time finding footsteps to follow or people to keep his company. The guy's from Wyoming and looks outdoorsy so I hope he knows what he's doing. We dropped him off at Tom's Place and told him we'll pick him up again if he doesn't get a ride before we return from our sightseeing tour of Rock Creek Lake. Fortunately we didn't see him again on 395 on our way to Mammoth Lakes.
The meandering road going up to Rock Creek Lake unsurprisingly wasn't good for my stomach again. I couldn't get out of the car once we got there except to go use the bathroom. The wind was cold again above 9,000 ft. Peter ran out to the lake for some pictures before we drove down again. For the last couple of days we're constantly driving up and down between 3,000 and 9,000ft. I've had it with all the mountain driving! Besides it feels either too hot or too cold! We have yet to figure out the proper altitude for a comfortable temperature!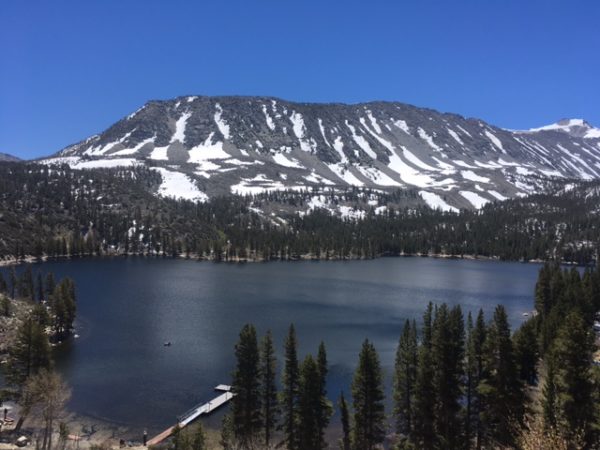 We have been going to Von's so much on this trip that we finally signed up for a membership card. After getting some groceries (at Von's again!) Peter made lunch at our rental apartment while hand washed a bunch of things. We took turns taking a shower. By 5pm I felt human enough to venture out again. We drove to Twin Lake and walked for a few minutes. 40F felt fine under the sun but the windy was icy cold.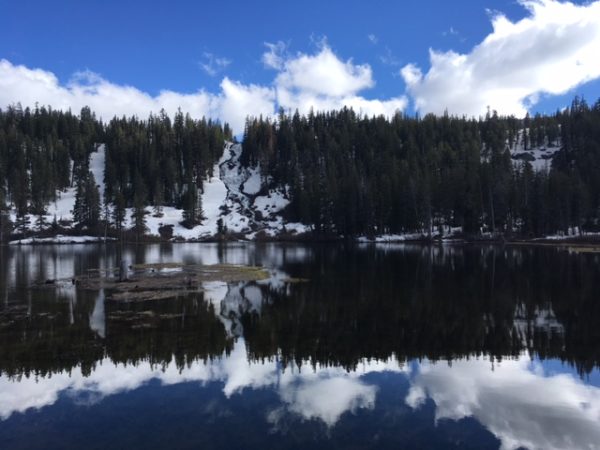 We didn't stay too long before calling it a day. Our apartment felt warm and cozy. It's such a relief to be able to put Owen to sleep on a real bed. We enjoyed a relaxing dinner: salad, steak, mash potatoes from our resupply box, coffee and strawberries. I could use more evenings like this.