Even in Vegas we must find something outdoors to do. We're not casino or shopping people. I had forgotten how loud and smoky the casinos get. Or maybe it didn't bother me ten years ago when I was young and didn't carry a young baby around. Knowing Peter's fondness for rocks and desert, I suggested that we make a morning drive out to the Valley of Fire, an once undersea canyon filled with rocks in brilliant colors and fascinating formations.
Even though it was early in the day the temperature was already approaching 100F. There were goats with big horns perched on the tall rocks in the shade. A couple of young ones chewed on short scrubberies. They seemed unphased by shutter happy tourists.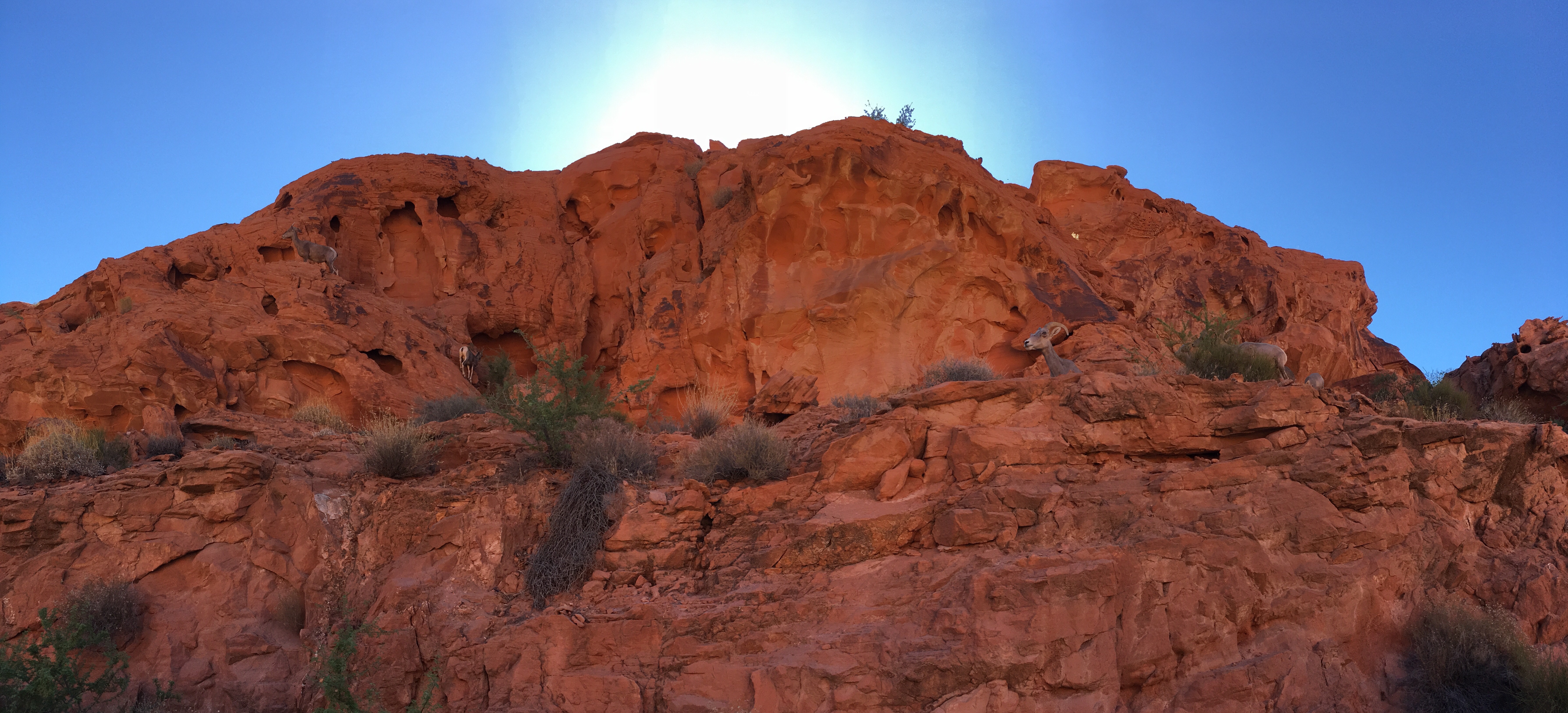 The deeper end of the park was closed due to unexplained reason. There was an ironic warning sign at a trailhead advising people to not go on a hike. I got Owen into the carrier to walk a few steps with the sun umbrella. It made a huge difference to be in the shade. The powdery smooth sand quickly filled up my shoes, making it hard to walk. We posed for a few pictures on the rocks instead hiking farther out. We had to be mindful to get back in the car before we evaporate!
The newest thing on the strip seems to be paid parking. It used to all be free as casinos competed for customers. Now everyone is charging except for the Venetian. This made no sense to me what so ever! Although the casinos are all next to each other on the strip they are actually much farther part due to their enormity! It would take forever to walk from one end to another.
We parked at the Venetian and walked to the Wynn because it would literally kill me to have to pay to park in Vegas! Thankfully the two casinos are next to each other. We had lunch buffet at the Wynn. It's what you do in Vegas if you don't gamble or drink and the buffet at Wynn is definitely one of the best. Food was plentiful but I'm not convinced that we got our money's worth since we were a bit rushed with Owen there. I had to eat quickly to walk him around in a carrier. I sure hope Peter filled up his stomach!