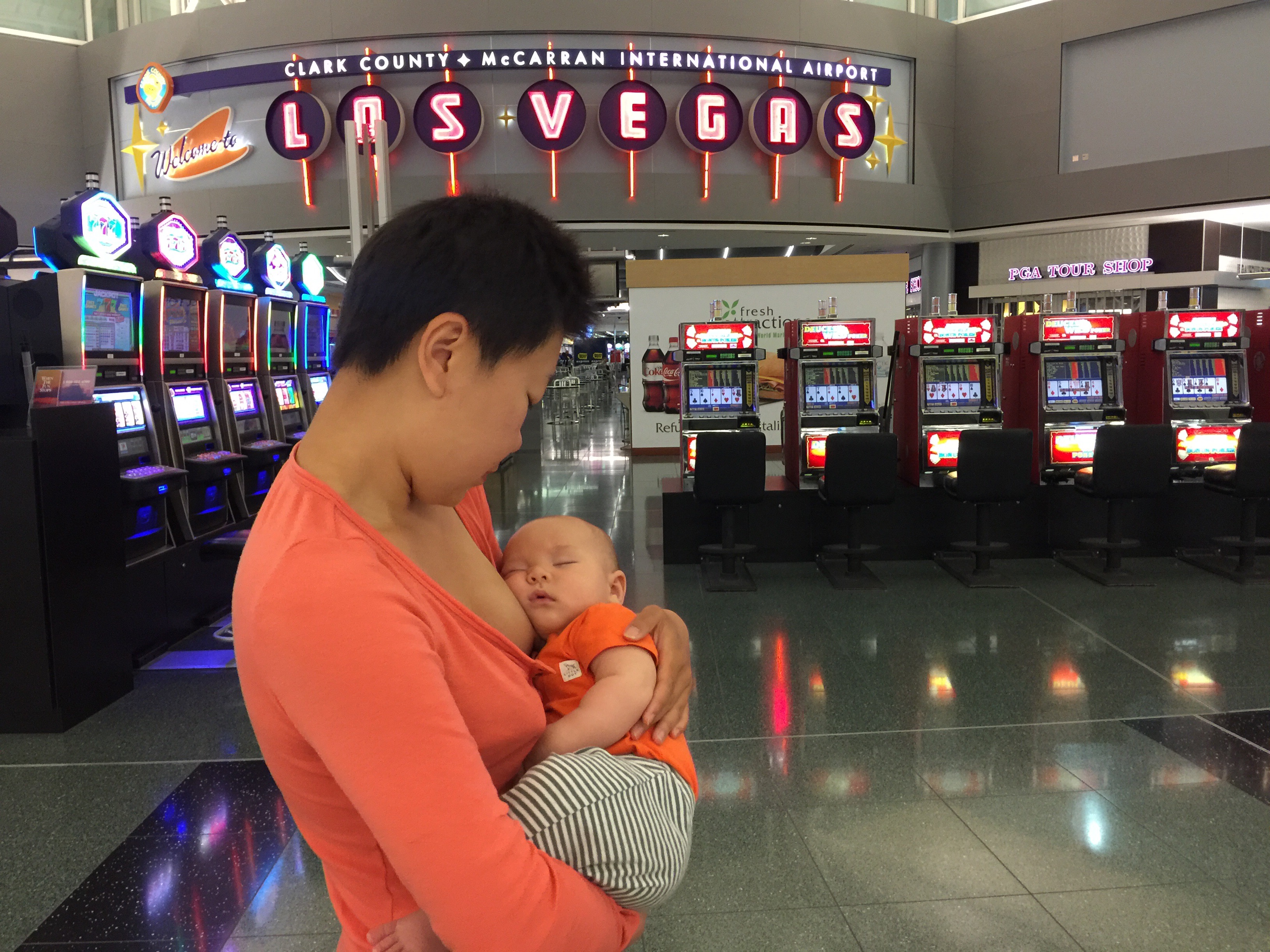 What a crazy year to be attempting the PCT! There's record snow from Sierra through the Cascades and now there's record heat everywhere! We stayed in our hotel room for as long as we could before checking out at 11am. With 110+ heat out we desperately needed to find somewhere cool to hang around until our 10pm flight. Mt. Charleston would have been at least 20 degrees cooler but it's also a bit of a long drive out of Vegas. We already have driving fatigue by now so another drive didn't seem at all appealing. Wanting to let Owen rest as much as possible we opted for lunch takeout from a Thai place I liked when I lived here 9 years ago: Archie's at Sunset and Rainbow. We ate in the car with AC running on full blast. It is not ideal but at least my seafood green curry did not disappoint.
With a lot of time to kill still I suggested that we go get another foot massage at the place on Spring Mountain. We have to take advantage of the good price while we can! It's could also be a good place for Owen to nap. Unfortunately the little guy was not as cooperative as the day before. He started to wiggle as soon as I set my feet in the tub. I tried to rock him in the lounger but he broke out a cry instead. Terrified to disturb other customers I jumped up with Owen and rushed him to the restroom. There wasn't any other closed space with any sound barrier if he continues to cry. I bounced him on my shoulder and tried to calm him down. A couple of people had to use the restroom so I stood in the hallway for a while. One of the ladies working there showed me an open massage room I could stay in. Of course, Owen would not tolerate me sitting down. I had to keep walking back and forth with him. Trying to keep Owen quiet had me on pins and needles. I couldn't even step outside because how hot it was. Yet this whole time Peter was laying down enjoying his one hour massage! He never even got up to check on us! I was so stressed out and upset but couldn't say anything because two other people were getting massages next to him in the same room and I didn't want to disturb them. This turned out to be exactly the opposite experience I was looking for! I felt trapped like I was about to have an anxiety attack! I kept looking at the clock hoping he would come rescue us but he never did. After nearly an hour I finally had to kick Peter's butt. It wasn't an effective way to someone's attention while they are laying face down for a massage! I kicked and kicked again but he just thought he was getting a massage! The masseuse had to pull on his shoulder and tell him to turn over. "Lets go!" I forcefully whispered. On the way out I was very apologetic and tipped a little extra for all the trouble. They can count on not seeing us again! Just like that we were once again out in the furnace.
With no patience left and nowhere else to go we decided to go to the airport early since it'll be at least cool there. Peter dropped us off and returned the rental car. I walked Owen around in the carrier but still couldn't get him to fully go to sleep. The poor little guy was getting increasingly tired and frustrated. I had to hold and rock him nonsto. When he finally went to sleep he was constantly awaken by the loud announcements! It was hellish.
At last, by 9pm he was puckered out. I had held him in the same position for three hours already. Didn't want to risk him waking up I continued to hold him the same way. "Oh man there's a baby" a man on the jet bridge uttered under his breath with disdain, "I hope he stays asleep." I rolled my eyes to the back of my head and didn't respond.
By the time we landed I held Owen for 9 hours straight. My arms and shoulders were in so much pain. I couldn't move or go to the bathroom the whole time. But Owen slept through the entire flight, didn't even wake up for take off and touch down. When I stood up to deplane a lady exclaimed, "I didn't know there was a baby on the plane!" I felt relieved that we were just a short Uber ride away from home, where our king size bed awaits us. It didn't disappoint. With a little work on Owen we all slept for half a day! It was bless. Traveling isn't easy but I'm glad to have done it.