One of the first things we did when we moved to northern Virginia last summer was to purchase a National Park Annual Pass. We had intended to do some weekend camping trips in Shenandoah and other surrounding national parks but there were always other things to be done. With our pass expiring soon and we decided to finally camped a night in Shenandoah for a sunrise summit of Old Rag, one of the most popular climbs in the region.
The most common way to summit Old Rag is by Ridge Trail, which consists some rock scrambles in the high portion. Saddle Trail, a fire road up the opposite side of the mountain, is shorter (5.4 miles round trip), more moderate and without rock scramble. I have no idea why it's so much less popular other than the fact that there is a very limited parking lot at the trailhead. I personally welcome any easy way up the mountain!
There are no existing campgrounds on or near either of the trails except for dispersed backcountry camping by permit. I had found an online discussion about a flat camping area a third way up to Saddle Trail so we decided to camp there last night (Sunday night) to avoid weekend crowd.
We packed up and left the house in the early afternoon. Owen slept for half of the two hour ride but got impatient towards the end. I tried to calm him down in the car without much success. It once again made me wish we were home. We are often susceptible to think things are easier and safer at home, when we are in our comfort zone. I suspect most parents, who dissuade us from taking our baby out traveling, hiking and camping are not strictly speaking from personal experience. It is only logical to think if it is difficult to care for a baby at home then it must be impossible to do it away from home. The reality from our experience, however, does not necessarily conform to that dogma. Owen can be fussy anywhere for different reasons. I have to remind myself that there is nowhere to escape to eliminate that all together. Sometimes he cries at home. Sometimes he cries on the road. It all balances out in the end.
We made a stop at the main parking lot at Ridge Trail to self register for backcountry camping permit. It seemed like droves of people were coming down, which made me glad to do the Saddle trail on a Monday. We then proceed down smaller country road to trailhead parking at Berry Hollow, where our hike starts. There were very few cars left after 5pm. We didn't see anyone in the vicinity until later on the trail.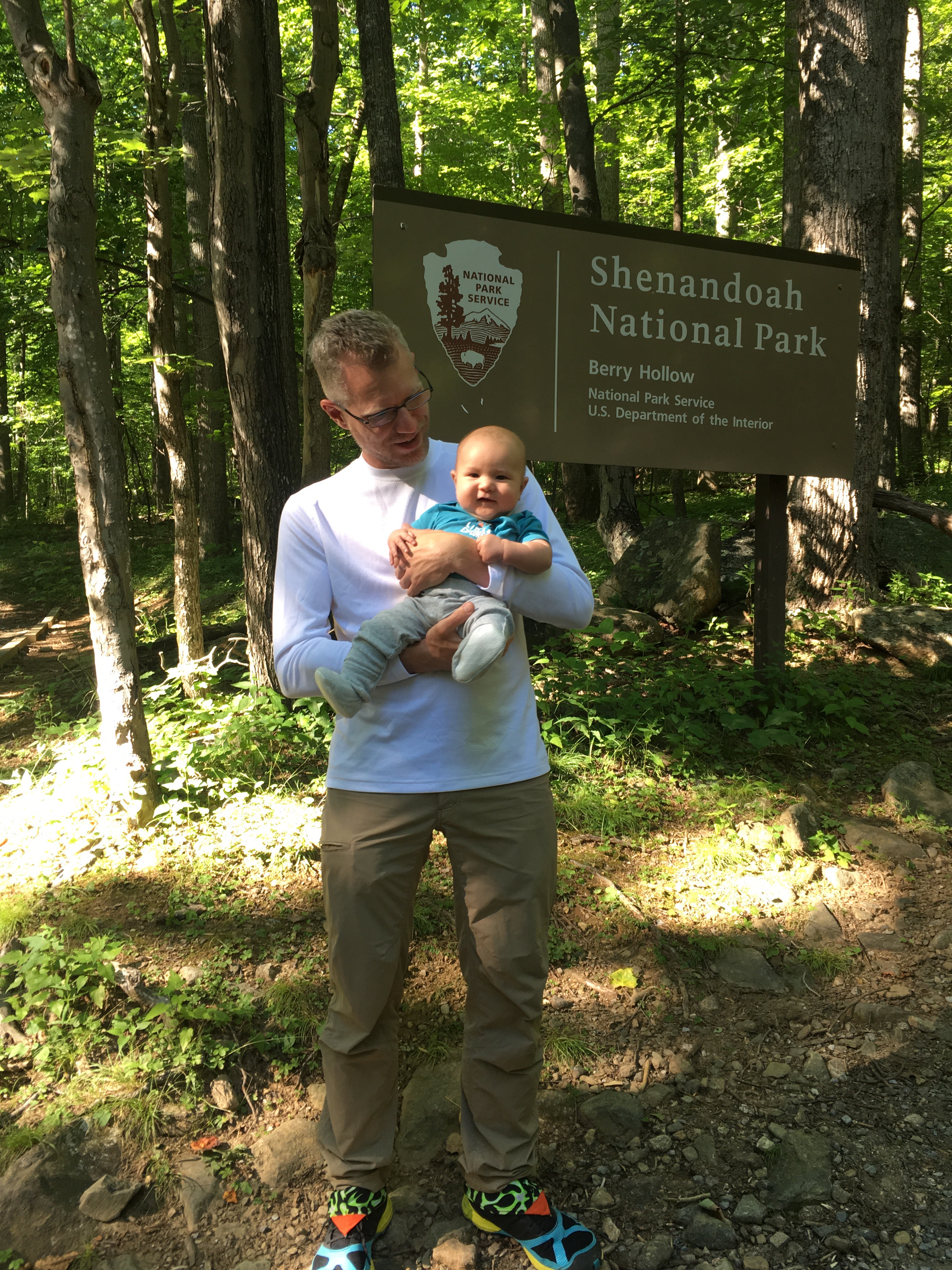 The temperature had cooled down a bit recently. I forgot how pleasant it was to walk on a shaded trail. Owen settled down almost immediately after we started hiking. It felt nice to be out after all.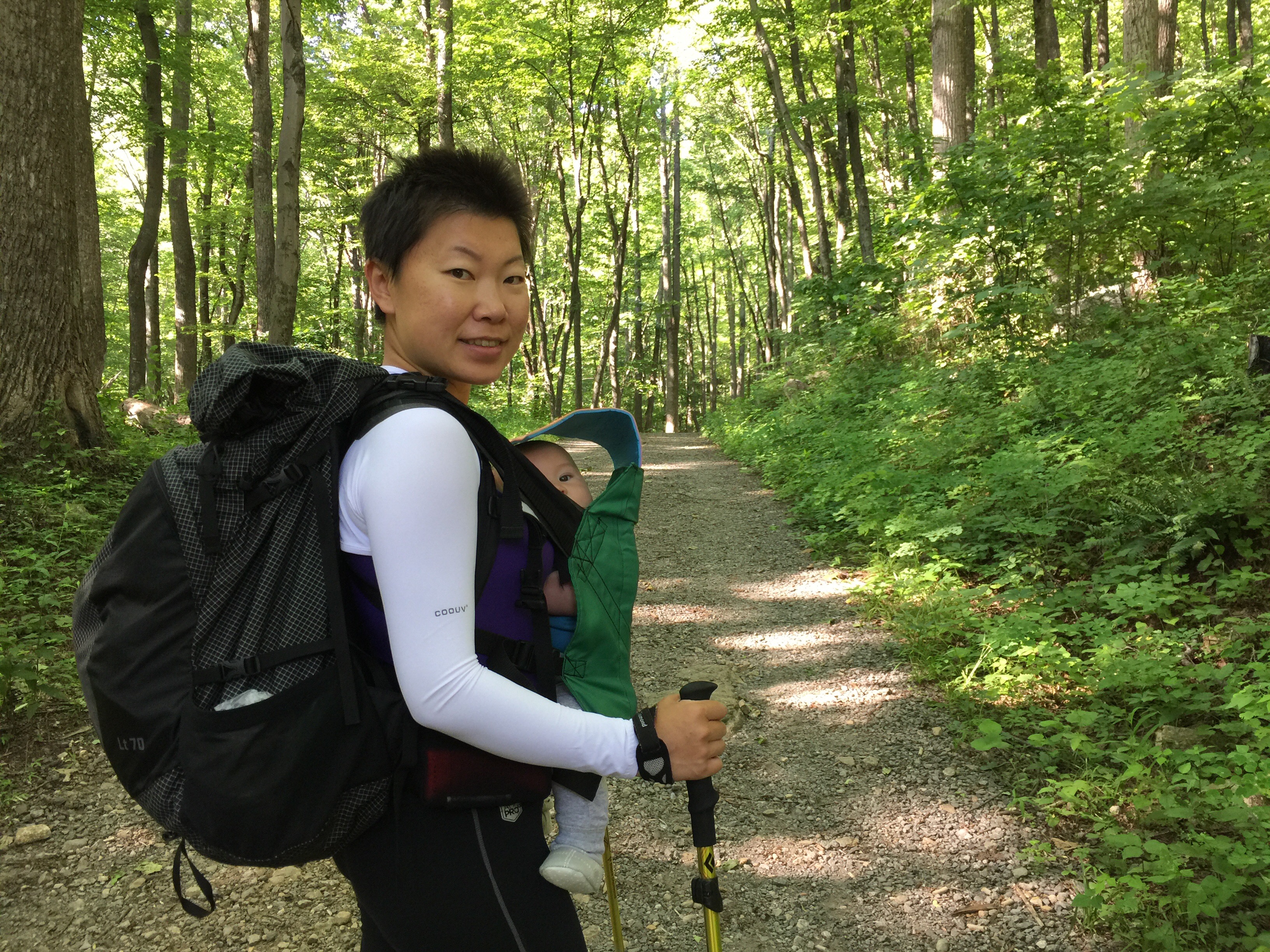 Once we reached the flat area at the intersection of Berry Hollow and Saddle trail we decided to hike up a bit more to see if we could find something closer to the summit. Camping is prohibited above 2,800 ft but we still had a long way to go. The trail turned more steep from that point with dense forest all around. The topo map showed mostly Ridge walk further up. Not wanting to chance anything late in day we turned around at Old Rag Shelter. A few step off the trail in the flat area led to a couple of flat spot, a small circle of stones. There were no one around but the area seemed well used. Peter started to set up the tent while I walked around with Owen. Once the tent was up we received our first visitor to camp, a young deer. It did not hesitate to come over to us and sniff our packs for snacks! Owen watched quietly. It was such a nice moment.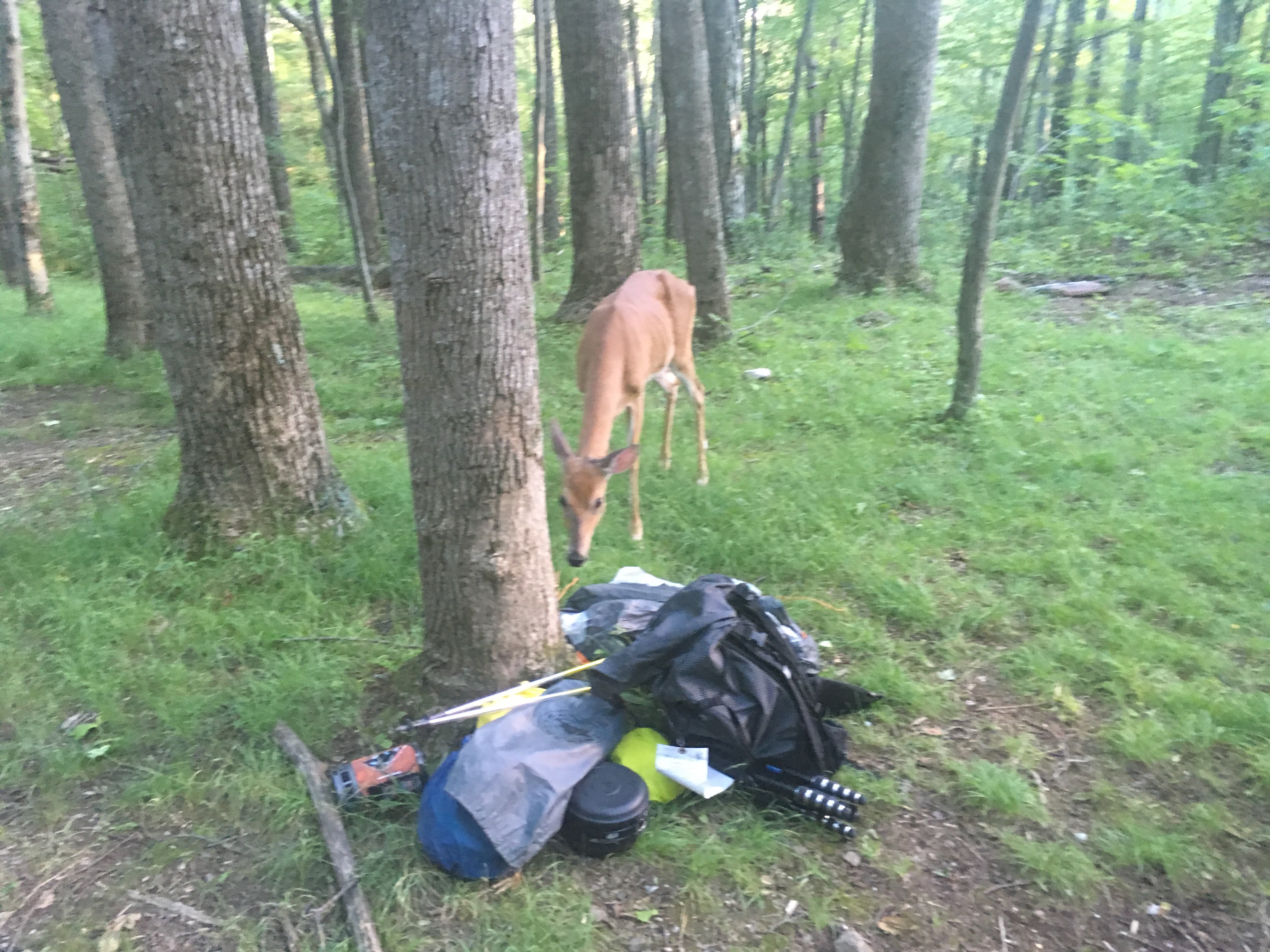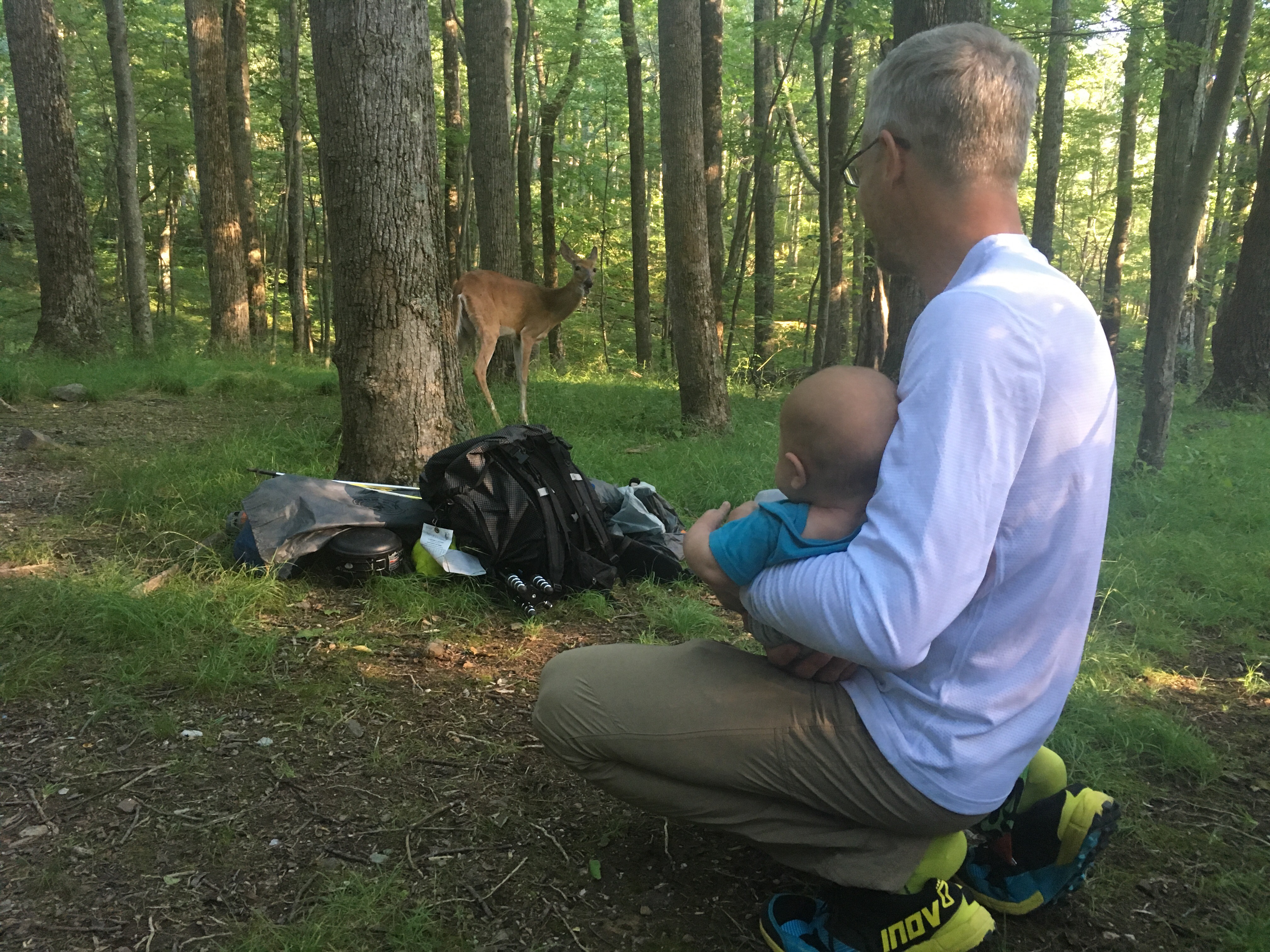 As the sun went down the flies picked up. Owen is still too young for insect repellent so we didn't linger long outside before tucking into the tent. Minutes later Peter tapped quietly on the side of the tent and pointed down slope from us. "What's that?" I asked. "Is that a bear?"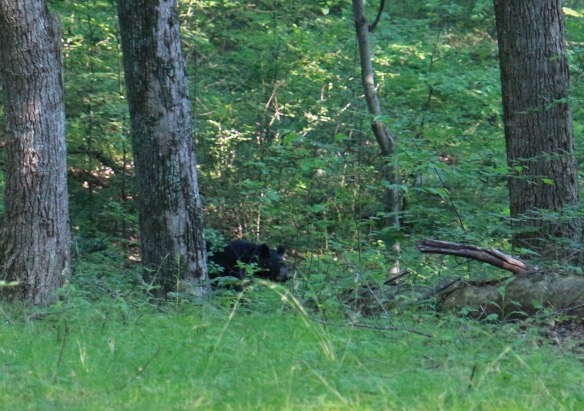 The bear sighting made me a little nervous but since the it walk on opposite and away from us I stopped worring once he moved out of our vision. Peter proceeded to make dinner: dehydrated meat, veggies and cous cous. It smelled good, so good that another bear showed up! This time it walked super close to our tent! I watched almost breathlessly. Peter kept the food pot closed as to not invite it to our tent! It was slightly unsettling how close it got to us. Owen started to make noises as the it walked towards the trail but the bear didn't seem impressed. A group of people came down the mountain from that direction moments later but didn't seem have noticed any bear. We ate our meal in the tent even though I know it's better to eat away from where we sleep. But before we could finish our dinner another bear showed up from the same direction as the second one! We looked at each other in disbelief. After it passed by I started to question if we should continue to there. Three bears one after another? None of them seemed afraid or bothered by people. We can hang our food but I don't think I can sleep through the night knowing how close they are! We promptly decided it was best to pack up and hike out.
It was already 8pm. We moved fast to get back to the car before dark. We were in the middle of nowhere without phone signal. Finding another campsite and setting up in the dark seemed unlikely. Owen soon fell asleep as we made the long drive home for the shortest camping trip ever!