It is easy to find our rhythm when we're out hiking and camping. Sleep when the night falls; raise when the day comes. Everything is simplified. We have gotten into the habit of going to bed with our electrics at home and staying up late and getting up later. A night in the tent gave us a much needed adjustment.
Everyone slept well last night to the sound of the ocean. Also because Peter slept on the sand (inside the tent 😜) so we didn't have to all squeeze on to one sleeping pad! Owen woke up twice but had no problem going back to sleep. We should camp on the beach more often. It is such a soothing place, especially for babies.
We woke up to a glorious sunrise, not a bad view from the tent. Peter went out to snatch some photos from the water. Owen was happy to take in the sight as well. He was so giggly last night when we got into the tent. Never seen him so happy! We took our time having coffee and took a few family pictures sitting in the tent, mostly waiting for Owen to take a short nap. Before the sun got too high up we went over to the beach for more photos. A few of them came out well.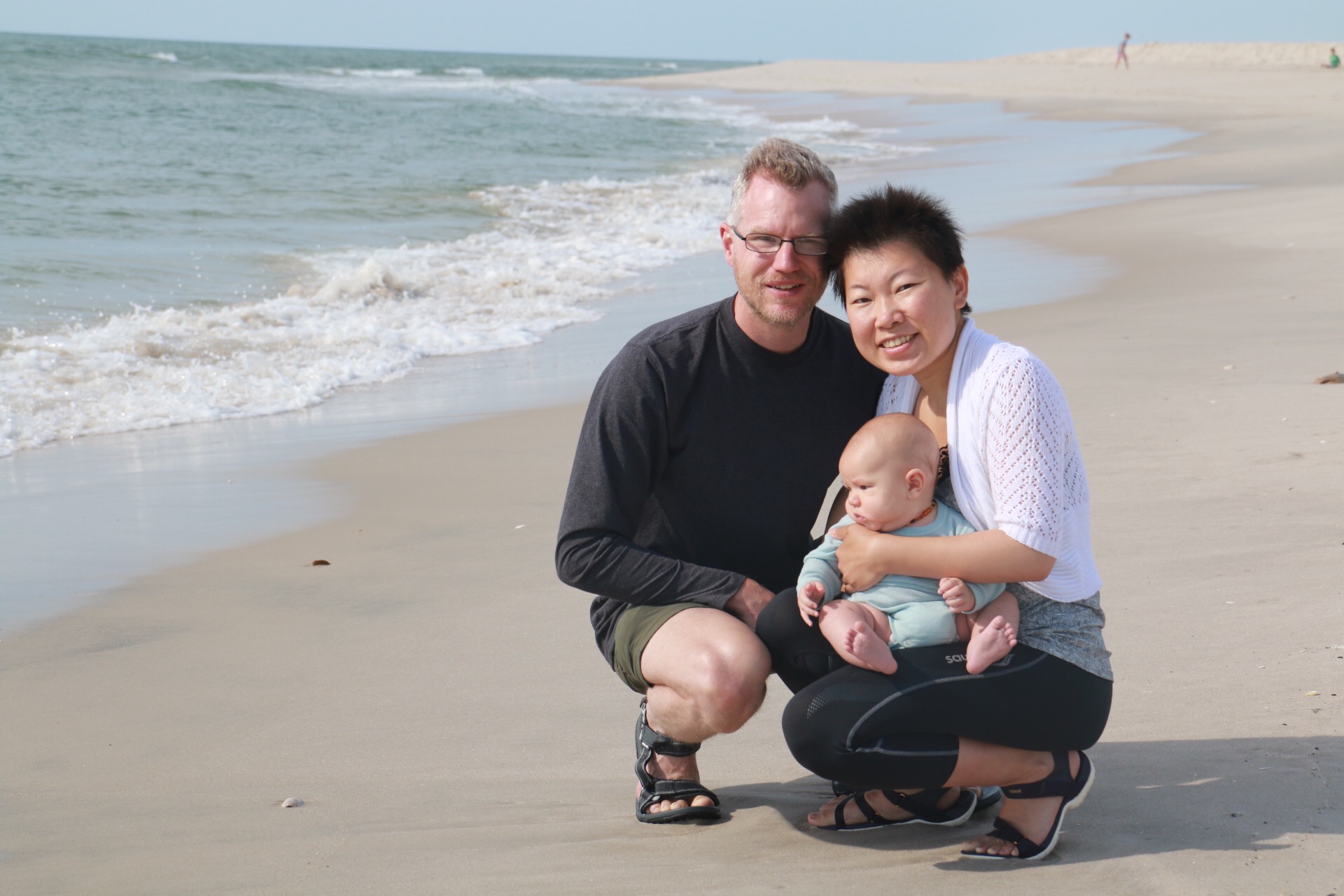 We are not beach people so other than picture-taking we had nothing else to do. Accustomed to trimming pack weight and hiking on trails, we didn't even pack swimsuits or towels for this overnight trip. Fortunately we did bring our new foldable rocking chair, a portable gas grill and marinated Korean BBQ pork! Just no plates! We drove over to the bay side for an early lunch. The rocking chair couldn't function in the sand but it took no time for Owen to fall asleep anyways for a late morning nap.
The water on the bay side is warm, shallow and calm, perfect for the little ones. Lots of families have started to gather on the small stretch of sand. An old couple sat near to us. The woman asked if we'd like a family picture. We didn't decline. Instead of getting up from her chair to take our picture she demanded her husband to come over to do it. Later on the guy went from reading a book to blasting hardcore party music on a loud stereo! The wife screamed, "turn it down! There is a baby trying to sleep!" Husband turns down the music. Wife screams, "not all the way down, you can still play it!" She then turns to me and asked if the music is ok for us. I nodded and thanked her. Then she had to announce to everyone that "Lindsay Lohan's mom wants to be a housewife." I couldn't help but to crack up. Peter and I took a nice little walk on the water after lunch. The breeze off the water had put Owen under a deep slumber, completely unaware of it all.
Not wanting to miss out on anything since we're already on the Maryland shore, we decided to drive farther down south to check out Chincoteagua Nature Preserve. We drove by the town of Berlin and stop at Baked Dessert Cafe for some sweet treats. Both the town and the cafe were very cute.
Chincoteagua turned out to be mostly a large beach area, not our territory. We didn't even get out of the car after driving an hour and half there. We did stop by the NASA Wallop Facility for a quick photo op. Pictures of Owen in astronaut suit are hilarious.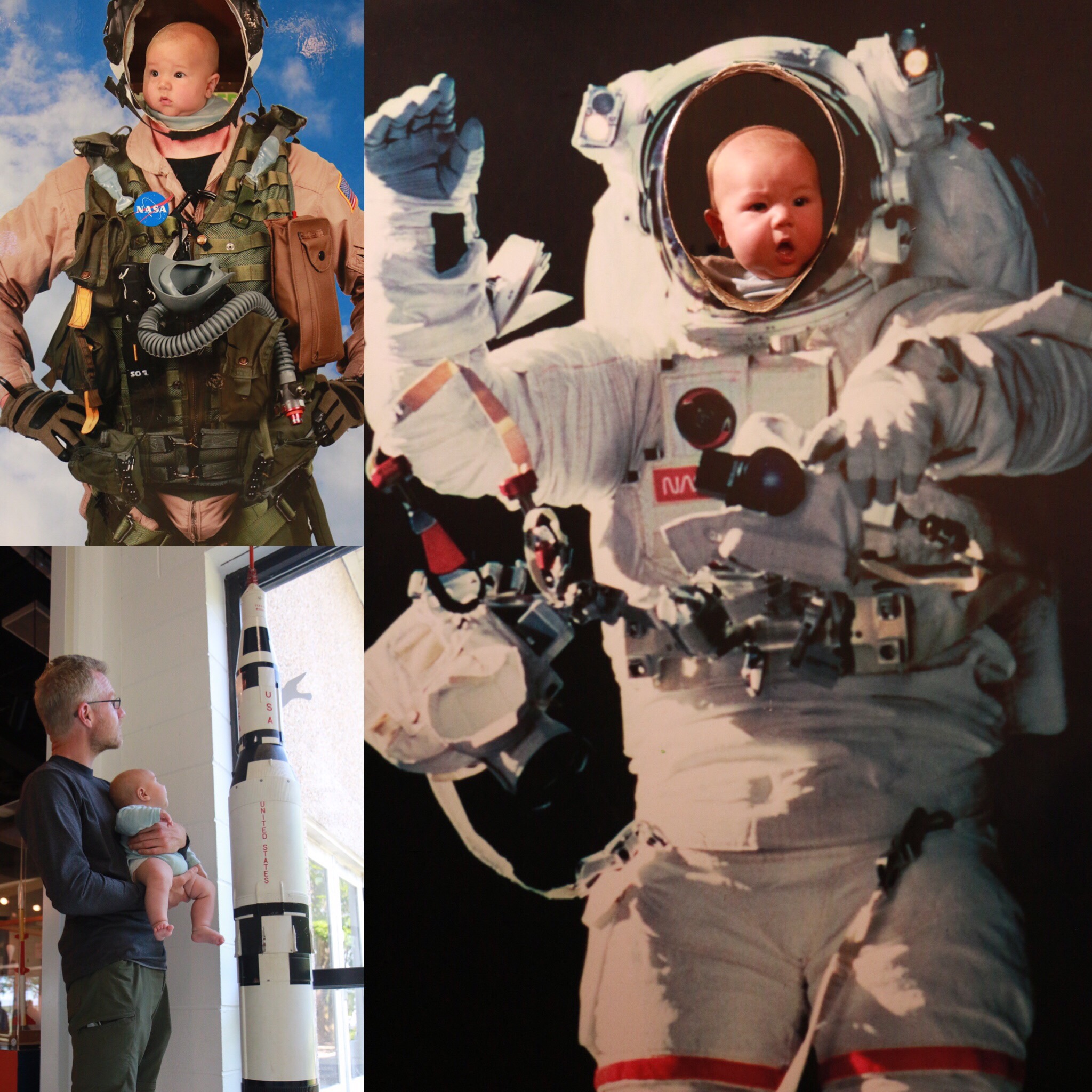 We had considered camping out for another night but since Chincoteagua was a bust we decided to make the long drive home. I like sleeping on my own bed too much! Of course we can drive home with empty stomachs. We made it to a Amish country market in Easton minutes before it closed at 6pm. The sizable market is only open three days a week with limited hours so we were lucky to have gotten in! We picked up some baked goods, bacon and sausages to go, and filled up our tummies at the small but hearty buffet. Here's Peter with a generous serving of meatloaf and a variety of starchy sides. It must feel homey to him being from Sweden!