The best mornings are the ones where Peter goes to make coffee and Owen and I fall asleep again before he comes back with it.
When it comes to pregnancy and childbirth there is no one size fit all. I didn't experience the emotional roller coaster everyone described in the early days. No postpartum blues even though I'm prone to anxiety. Sure my body is no longer the same, except I'm now fitting into all the clothes that were too tight on me before pregnancy. Owen latched on with the first try. My milk came in two days. Breastfeeding has been going strong despite a week of hospitalization when Owen was four and half weeks old. The only thing that really bothers me is carpel tunnel!
Sleeping with baby Owen may be sweet but it has not been easy on my neck and shoulders. I struggle to get up from bed to take the first few steps each morning like geriatrics patient. Continuously holding Owen a certain way has also caused a lot of tension on my wrists, to a point to getting carpel tunnel, something I've avoided through music school and typing on a keyboard all day.
I have been meaning to see a chiropractor and masseuse to fix these problems but not knowing any good ones in the area has delayed the process. I saw a chiropractor in Fairfax in my second trimester because I read something about Webster technique and how it could help moms and babies to get into optimum position for birth. However, the clinic I found that offers this treatment was really awful. They performed quick generic adjustments in a large common room where patients waited around and watched as you lay on the table. It felt like going through an assembly line. So we read some conflicting reports on the Webster technique and stopped going. That's the beauty of any healthy living tip, there are plenty of discussions for and against each one to suit whatever belief is most consistent for you.
Anyways, not wanting to put off my discomfort any longer I finally pushed myself to log onto my health insurance website to find an in-network chiropractor. There wasn't much to go by so I just started calling the closest office until I can get a human on the line. It took three tries to get a female voice. She sounded friendly and had no problem to get me in the next day! Wow, this is awesome, I thought.
I had no idea how lucky I was until the appointment yesterday. The chiropractor I randomly called turned out to specialize in maternity and children wellness. She was warm, knowledgeable and patient. We spent an hour going through the events of the last few months. The adjustments were quick and effective. Even the office was beautifully appointed with a scent of citrus in the air. Frost glass sign on the front door, a tray for your shoes to keep the floors clean for kiddos, a basket of unique stuffed toys, a buit-in wall library, clear jars of whole grains on display, soft lighting, etc. The place felt calm and inviting, not what you would expect for a physicians office. Feeling comfortable and confident with the chiropractor I came back today for an adjustment for both me and Owen.
I had noticed how Owen tilts his head away from my right breast at times rather awkwardly. There could be multiple reasons for babies to develop a preference for one side or another. It could be easily resolved if neck alignments is the culprit. Having dealt with neck pain for much of my adult life it is definitely not something I want to avoid for the baby. Chiropractic adjustments for infants are usually light vibration on pressure points along the back of the neck and spine. Adjustments could also help with latching, acid reflux and constipation. Everything is usually very delicate, unlikely to cause any harm even if there are no discernible benefits. Well worth a try.
We were there for a good hour and the little guy did great. He smiled and cooed at the chiropractor. Tolerated light adjustments along his spine while laying on his back. Peter waited with him while I got my follow up adjustment as well. All together it was a productive visit, one we will be repeating again in a few days. Perhaps Peter should get an appointment too. Nothing better than a well adjusted family!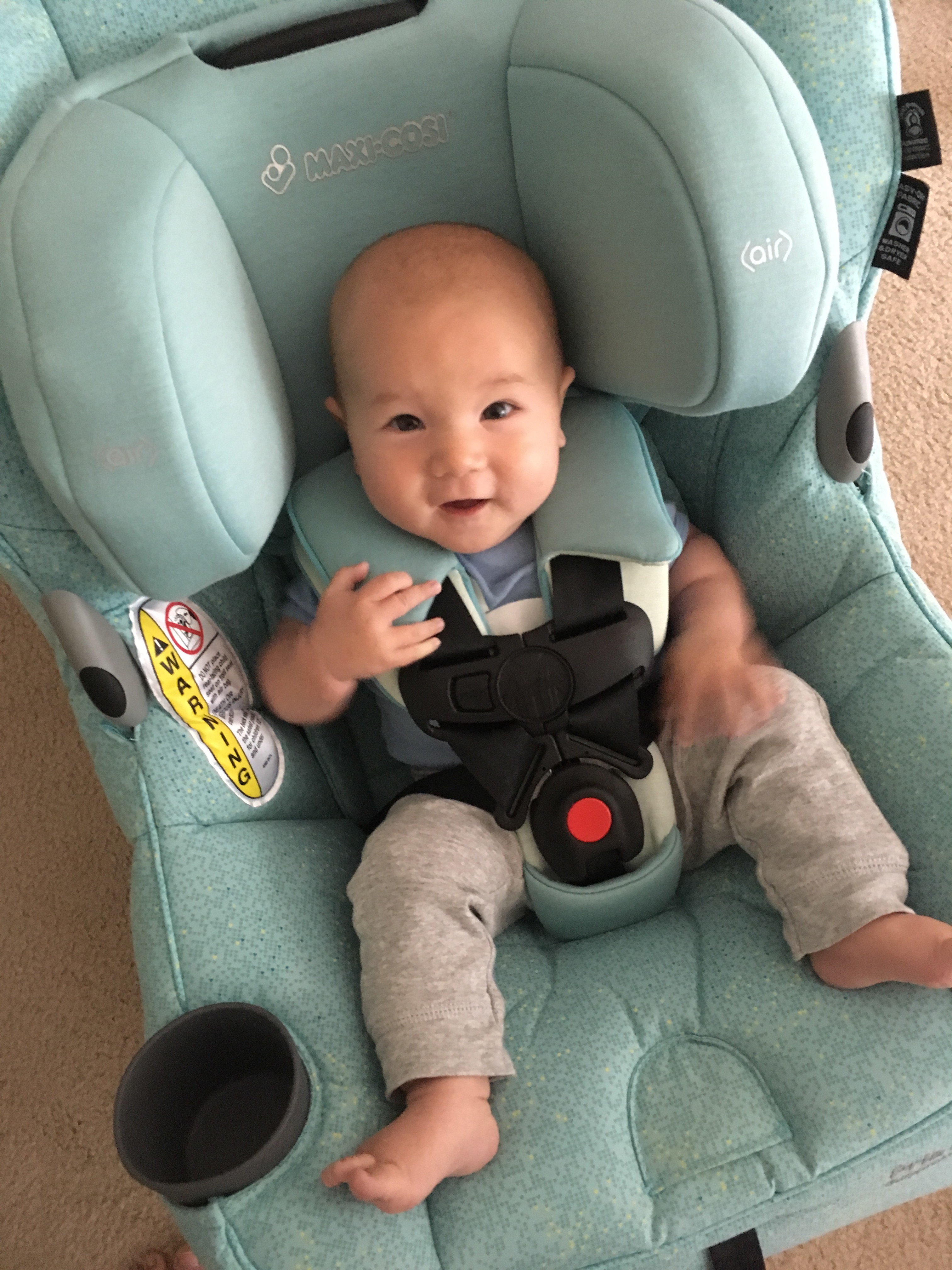 In the other news, we got Owen a new car seat. He is now over 15 pounds, big enough to sit in Maxi-Cosi Pria 85. He wasn't a fan of the old bucket seat or car rides. Fingers crossed this one will go better. He at least looks more cozy in it. I like the fact that the whole fabric part comes off easily for machine wash and is dryer safe. If we're going to be stuck with the same seat for years I want to be able clean it because we plan to be dirty. 🙂