"Do you have any milk, juice, yogurt or any fluids for the baby?" asked the security person at the airport.
"No"
"Nothing? No bottles?"
"No"
I smiled. In that rare and unexpected instant I felt so proud to be exclusively breastfeeding. Knock on wood. We've been doing well with it and I hope to keep it that way for as long as we can.
Last minute flights to Seattle meant we couldn't get seats next to each other. Flying cross country with first connecting flight going the opposite direction was a big no no when Owen could hardly sit still for a few minutes at a time and has been refusing to sleep in my arms! The first flight to Charlotte was short and easy with Owen sleeping through most of it in the carrier. I knew the second flight was going to be rough. Tthankfully Peter switched seats with me so I could have standing room at the first roll. I just had no idea I would be standing for nearly four and half hours on a five hour flight!!! It was the only way to keep Owen semi-content.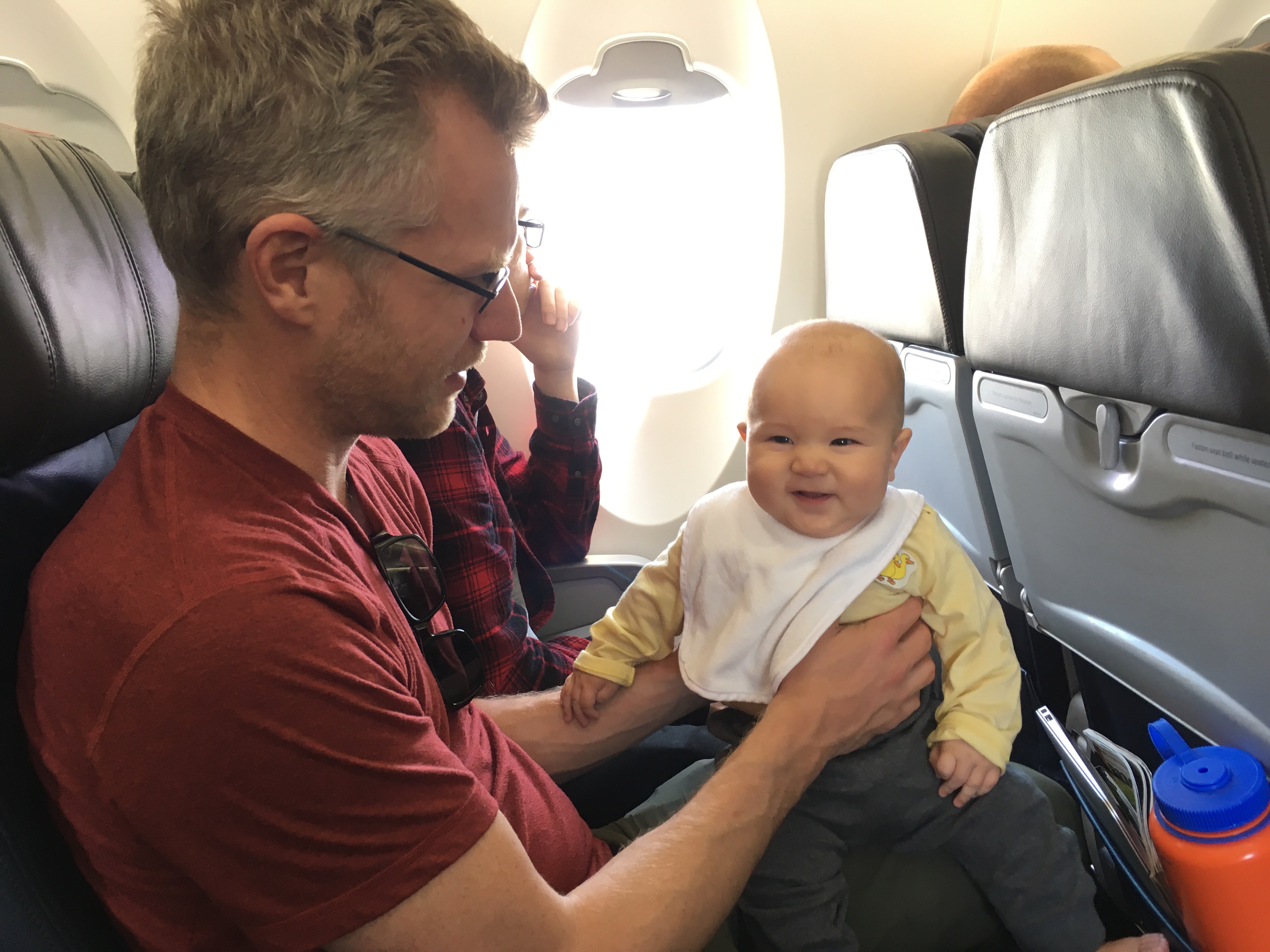 Half way through the flight I went to Peter's seat and chatted up with the couple sitting next to him. The woman noticed I was signing to Owen. She has four grown kids and taught them to sign when they were babies as well. Seeing that she was eager to play with the baby I gladly handed Owen over to her. I told Peter to switch seats with me and come back in a few minutes. Owen was laughing with the lady and mirroring her facial expressions. I waited and waited but Peter never came back to get us. Finally I had to pack up Owen and the carrier to go to him instead. When I asked why he didn't come back all this time he told me it's because the flight crew announced that everyone should remain seated with seatbelt on. Omg, there was barely any turbulence and other people were walking around the cabin! Besides, that's a standard thing they say on flights! "I'm Swedish!" Peter responded.
By the time we finally arrived in SEA at 8pm both Owen and I were exhausted: me from all the standing and rocking and him from not sleeping to keep me standing and rocking! At least he only cried four a couple of minutes on a five hour flight and spent most of the time smiling at all the passengers around us. He's just too cute.
We drove straight to the hotel so I could put Owen to bed while Peter go get us takeout for dinner. It is so strange to see outdoor fire pit and indoor fireplace on here when it has been insanely hot in VA. I am still worried about the heat on the trail in NorCal but now I'm not sure if I should also be worried about cold in high altitudes at night. The damn trail is going to be either too hot or too cold and the only time when the temperature is just right I will be too tired to enjoy it!