We got in SEA yesterday evening around 8pm. Peter dropped us off at the hotel so I can put Owen to sleep while he picked up food from La Isla Redmond. Fortunately it wasn't as a big ordeal to get the baby down for the night. We ate dinner in the dark as not to disturb him. The food was average at best despite the glowing review on Yelp.
Owen poops like clockwork, normally starting at 6:30 am. He started kicking to signal potty time while it was still dark out this morning. I looked at the time, and sure enough, it was 3:37am. Good work Owen.
We had nothing planned for the day. After an early breakfast I hopped on a trail next to the hotel and leisurely made my way to Redmond Town Center, a new retail development filled with chain stores I haven't visited in ages. Peter and I always joke about how Owen has been everywhere except for the mall. I have no objection to keep it that way. The only thing Peter has bought since I met him is a bicycle! I shop a lot online but have been making an effort to cut back. It feels good to know that the last trip we took I literally wore the same shirt and pants for four weeks!
The town center was quiet. Stores were not yet open. A few moms were working out together around their strollers. I wonder if I would ever become one of them or would I stick to being a solitary runner? Farther down a couple of more moms with kids has gathered around a water fountain. A pair of Chinese grandparents were also there with a baby boy. It's common for Asian grandparents to come to the US for extended visits to help take care of their grandkids. I struck up a conversation with them. They were surprised that I spoke Chinese and said Owen didn't look Asian. Haha, I suspect perhaps they thought I was the nanny. Then they looked at me with admiration. "Wow, you can take care of him on your own?" Sure, I said, he's an easy baby. "Oh you're so lucky and capable! Our grandson is a handful and our daughter-in-law just can't manage." Before I can even feel bad for the mom the grandma asked me, "are you breastfeeding him?" "Yes" "Exclusively breastfeeding? Do you have enough milk?" "Yes, yes" I answered, a little surprised but not offended. "Our daughter-in-law didn't have enough milk so we had to supplement with formula. Half and half." Yikes, now I feel bad for the daughter-in-law! Seeing the disappointment on the old lady's face I said, "you grandson is growing so well! Look how big and tall he is! And so much hair!" "Oh yes, she now feeds him tons of fruits." It was cute watching Owen trying to interact with the baby. We chatted for a few more minutes before we parted ways.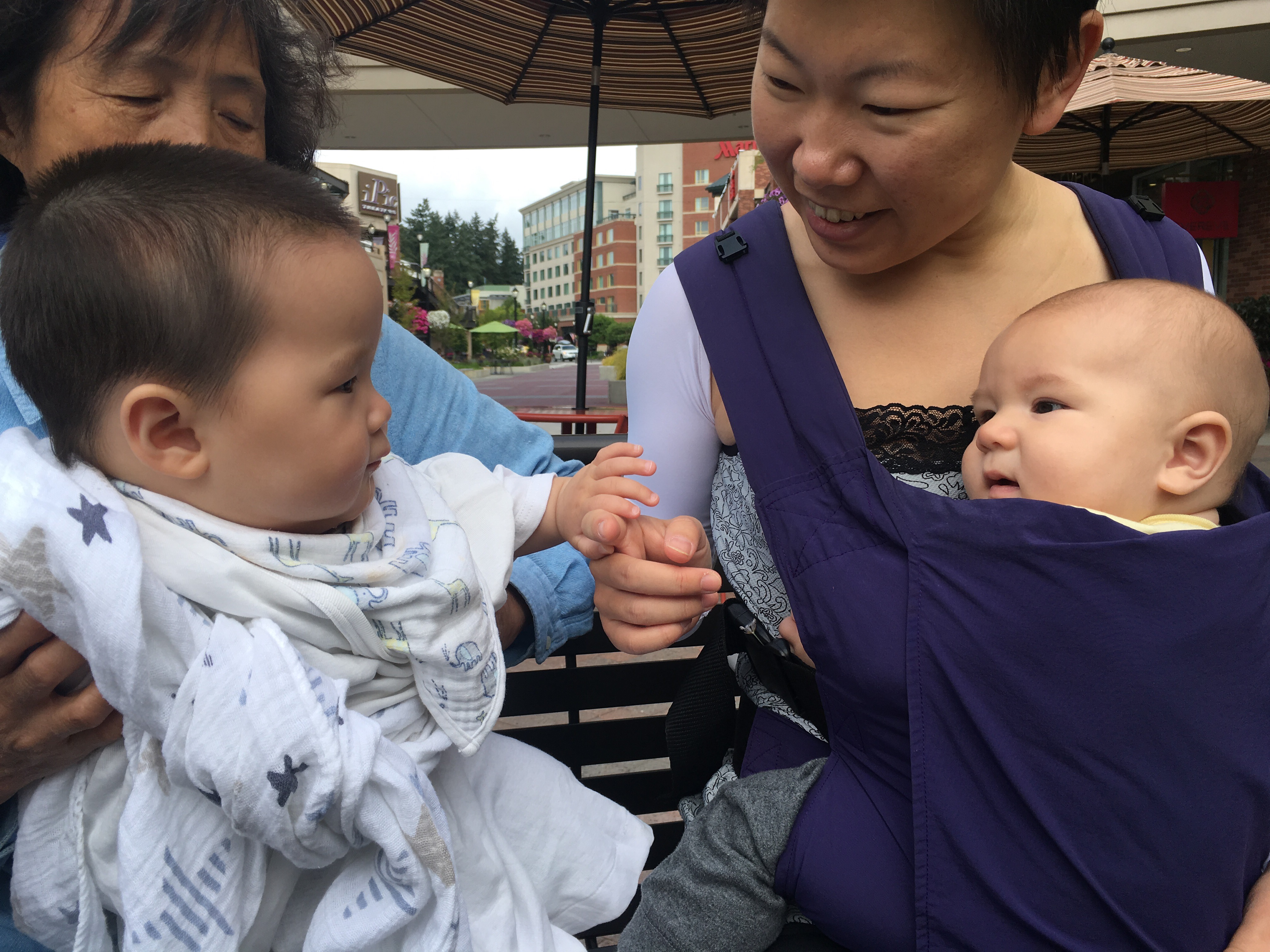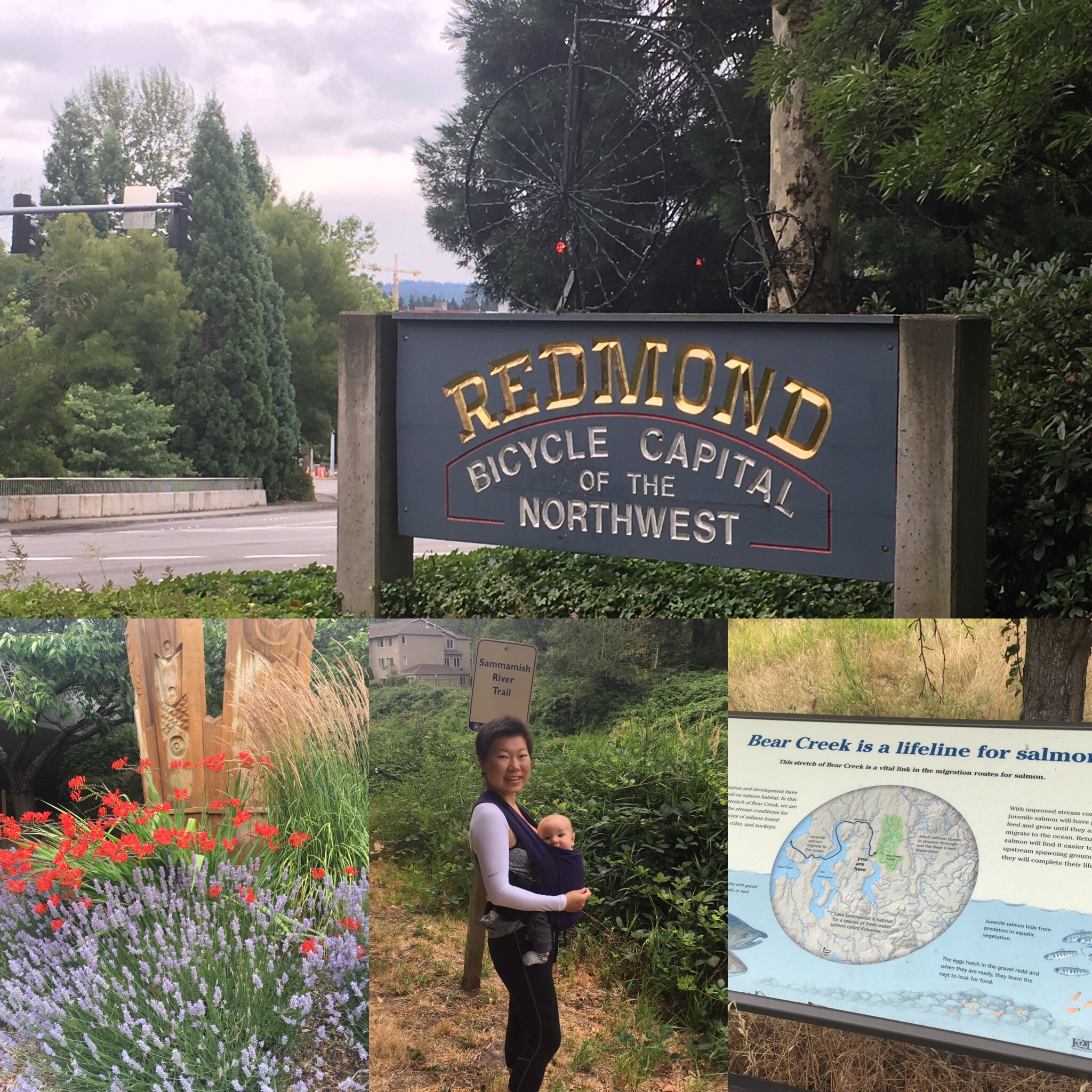 On the way out of the Town Center I walked by two baby play gyms and decided to check them out. The Giggle Jungle allowed young babies like Owen to play for free. Score! Baby Owen had a great time crawling around and watching bigger kids play. There was also a room with flying balloons. Baby Owen was fascinated. It made me so happy to see him watching and absorbing everything around him.
Baby Owen was tuckered out from all the activities and took a nice nap at the hotel in the afternoon.