We woke up this morning to the sound of heavy machinery and falling trees. It is sad and disturbing. Reminded me of the scenes from the documentary 180 South: paper mills passing pollution to the coast of Chile, dams in all the rivers and people like Yvon Chouinard and Doug Tompkins trying to preserve Patagonia. The PCT passes through mostly federal parks and lands. It also relies on public right of way across some privately owned properties through easement. We crossed such a segment today managed by Collins Pine Company. I hope these people are doing the right thing for preservation and sustainability. Deforestation is devastating, even more so when it is happening right in front of our eyes as we hike through the said forest! It hurts to hear the trees fall and see stumps on the ground. I'm upset that we do not have more shades on such a hot day! Will future hikers be walking through a barren land here? I suppose not all trimming and logging is bad in California, a state plagued with wildfires. I doubt if this particular operation is aimed at fire prevention. There is no denying that commercial logging is demand driven. There is no end to the blame game. At the end of the day, we have to look inward for our individual impact on the environment. I have always been fairly conscious of my own consumption, obsessing over every piece of paper, plastic and whatever that is not absolutely necessary. Seeing this makes me want to do more, use less. Heck, I really don't think we even need any wooden furniture or furniture at all. Let's go home and crawl around the floor with the baby.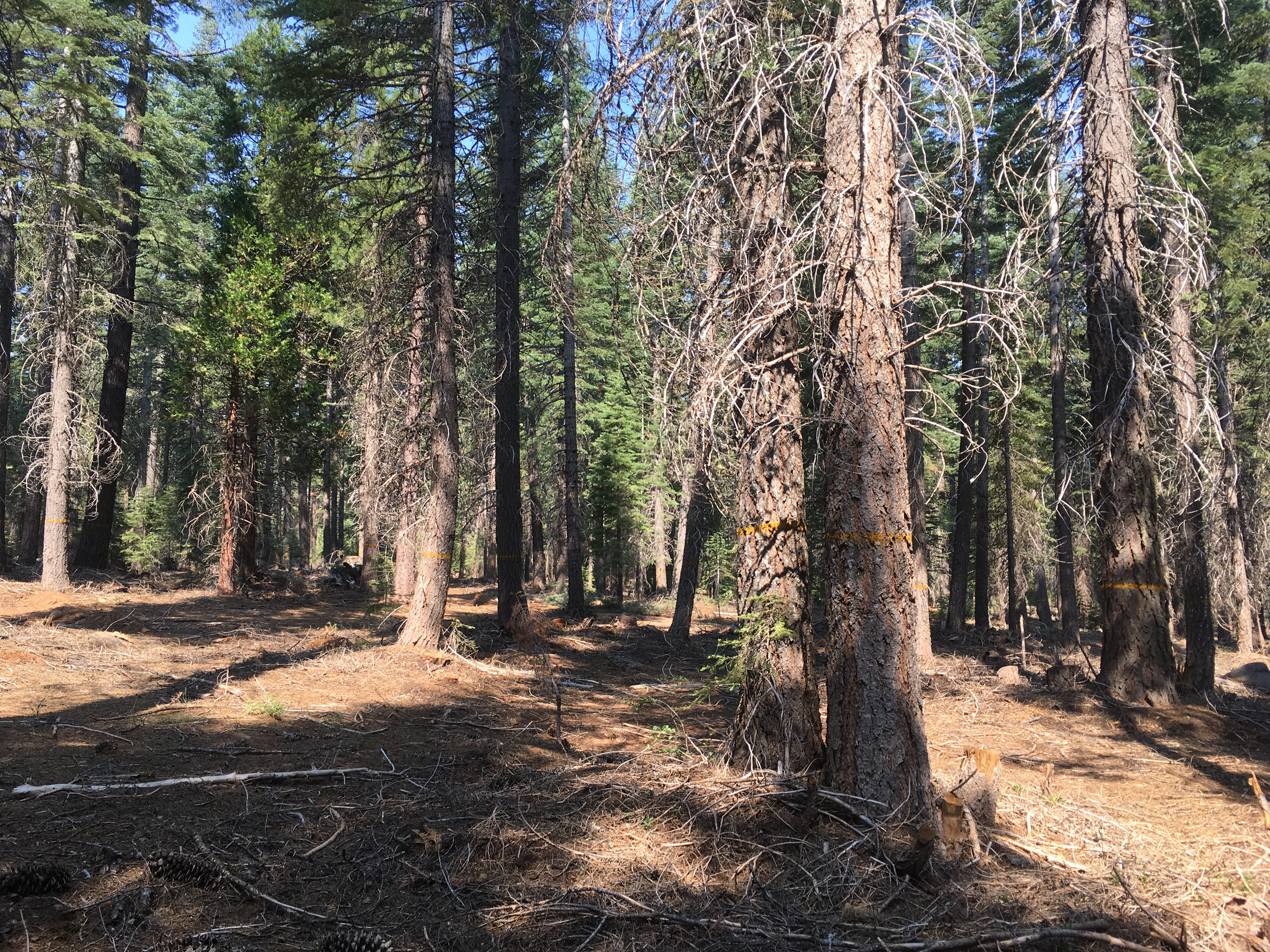 Trees marked to be cut down.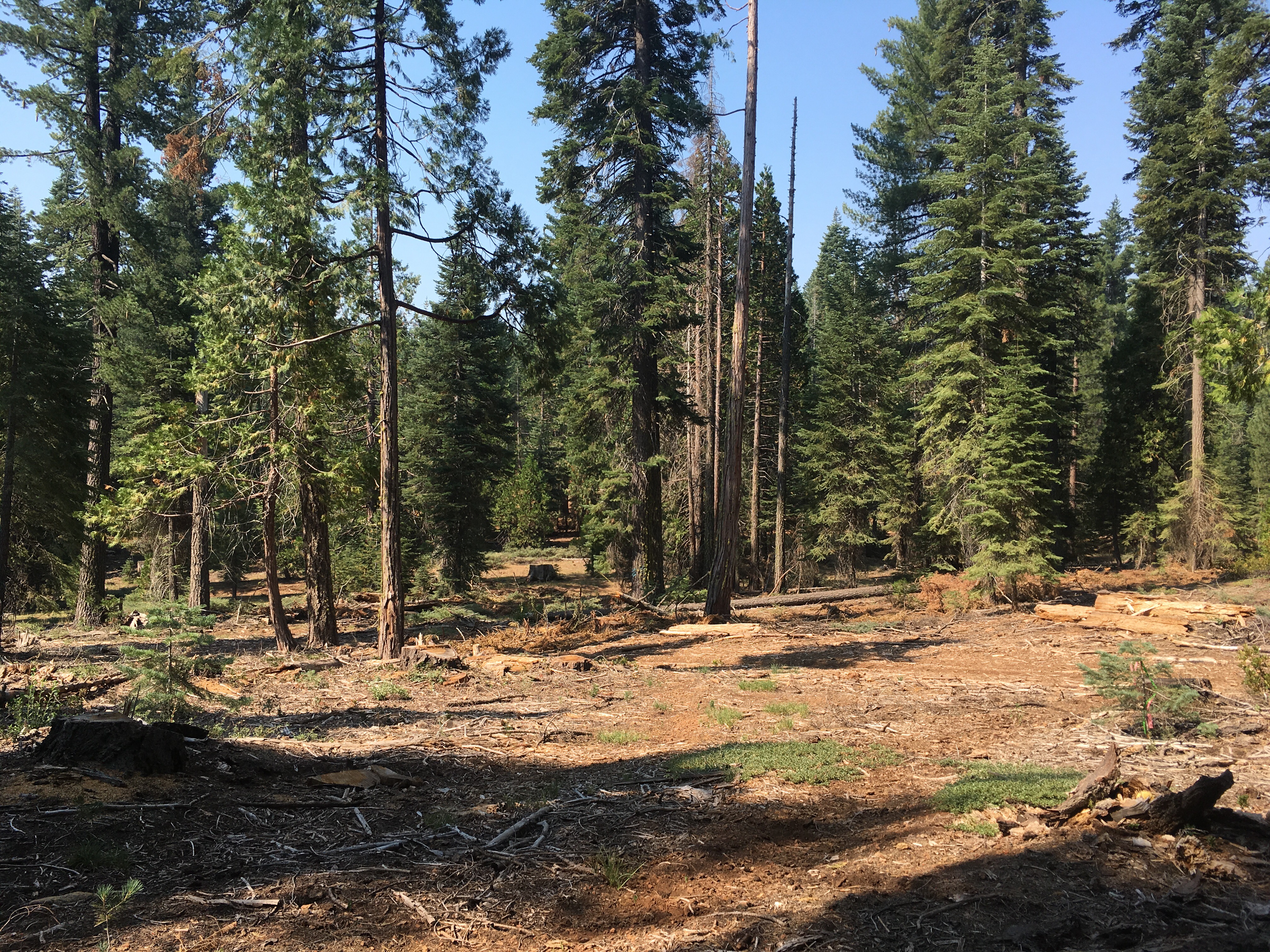 Not the scenic trail we're use to seeing!
What is uplifting though is the thought that we were only a few easy miles away from civilization, or a giant burger! It didn't really matter that the day was heating up quickly or the fact that whenever we stopped for a water break we were swarmed by mosquitos! They apparently like shaded areas as much as we do! I had to do the mosquito dance around Owen while feverishly waving around his pants so Peter can change his diaper without him being carried away by mosquitos. With food and quality rest within reach I skipped along the trail and even afforded some energy to be goofy! We must take pictures with giant pine cones before we leave NorCal!
The last couple of miles through the logging site were not very exciting unless you pay attention to the warning posted everywhere for "falling timber!" Landowners have a duty to post these warnings for obvious hazards to relieve themselves of legal liability for any bodily injury incurred while hikers pass through their property, something I learned from law school. Ironically, the signs are up for their benefit, not ours. We were making good progress going down hill to highway 36, where we planned to hitchhike to Chester. Owen napped for much of the morning as usual. When he woke up towards the end of our hike out I started singing to keep him in a good mood. The wheels on the bus go round and round, round and round…
With less than a mile left, I told Peter to go ahead of us to start waving down cars on the road. I took my phone off airplane mode to try to reconnect with the outside world. There was no signal until the very last two tenth of a mile when all of the sudden Facebook notifications started to pop up on my screen. I was so excited as I remember seeing FB posts from a lady in Chester who hosted hikers. I quickly found her contact from the Chester Trail Angel group and sent her a message. Unexpectedly she responded rightaway. "Are you the people with the baby?" she asked. "I have three little weiners," she followed. Obviously there is no hiking that we're hiking with a baby. However, I continue to be somewhat reluctant to mention it to people. I understand it's not everyone's cup of tea and some may think of us as being reckless. Often times I post or share a picture of the three of us so it's more likely for people to have a positive visual of what hiking with a baby looks like. I sent the trail angel our picture and told her we have no issue with dogs. She also asked if we had a ride in town. When I told her we were still waiting on the road she offered to come pick us up.
The whole exchange took only a few minutes. By the time I saw Peter again on the other side of the street I waved him back and told him we've already got a ride and a place to stay! How lucky is that?! While we waited at the trailhead we saw a family pull up in two cars for a dayhike. They looked at us head to toe a few times but didn't come closer to say hi. After they unloaded all the kids dad wondered over rather hesitantly. I have no idea why. We didn't look that containmenated. I eagerly greeted him and asked if they're out for a dayhike. He nodded. "Which way do you plan to go?" I asked. "We are not sure yet." "We just came from the north side. It's privately owned by a logging company. They're cutting down trees now so it's not very pleasant. We didn't hike the south side so I can't tell you anything about that." "Ok! Thanks!" He then said, "wouldn't it great to have Uber here? So hikers can call to get a ride?" I was a bit surprised and taken back by his remark. Not sure if it's because he recognized we're hikers waiting for a ride or the fact that he suggested people should cash in on thru hikers getting a ride in town. I have nothing against commercialization for such services. I'm sure we would pay for an Uber if it's readily available. However, I'm also certain that the trail would feel entirely different if hikers were being shuttled around by Ubers instead of relying on the kindness of strangers for hitchhiking. Before we got on the trail we both felt hitchhiking into town as an incidental annoyance or complication. Having been out here and saved by multiple hitches in crucial times, I now consider it a feature of our hike, possibly even the centerpiece! Sure we hiked a few miles but without trail angels and kind strangers we literally could not have gotten anywhere and in the worst case land ourselves a whole lot of trouble. Anyways, that was the extent of my exchange with the man. He relayed the information to his gang and headed southward just when our trail angel showed up in a big white SUV, the perfect hiker shuttle! She immidiately handed us bottles of icy cold water and blue gatorade. I was so happy and relieved to be out of the heat. Owen looked at everyone with great interest. No fuss as usual. We also got another Nobo British hiker from Long Island (BanBan) in the car. We later found out he got back on the trail shortly after eating and resupplying at Holidays (the only grocery store in town). I guess by now hikers are making a B line to Canada, or at least towards the OR border.
Owen passed out like a pro at trail angel Trudi's house
The way I was, when I was free?
An open book that we could read
Together
Will I haunt your dreams?
A mocking bird with broken wings
A burned out barn, an empty swing
Forever
Time turns and then it flies
A waterfall of lullabies
A smiling girl with crying eyes
Forget her
Moonlight upon her face
A story book of empty space
Where you and I feel out of place
Together
Will we remember this?
The way it was or how it is
What we love or what we miss
Forever
Will we turn loose at last
The schools of thought from whence we've cast
And let our boats go sailing past
Untethered
One fine morning, one fine morning
The machines are gonna cut us down
One fine morning, one fine morning
The machines are gonna cut us down