We didn't have any special plans for the highly anticipated event today. A month ago we thought about hiking northbound to Olallie Lake, OR for the eclipse. In the end we decided to head south to Lake Tahoe instead. We experienced some heatwaves but at least no major wildfires, as the case for much of OR around Olallie Lake.
We then thought about going to a special event at the Udvar-Hazy Air and Space Museum with our neighbor-friends B&D but all the red line traffic on Google map deterred us. It deemed like everyone was congregating towards either the path of totality or a special gathering near them. Owen still hates car rides, so much so that it's the only time he really cries. The thought of being stuck in traffic and then standing out in the afternoon heat with him was not at all appealing to me.
We went grocery shopping at Wegmans around noon. Owen still loves seeing everything at the store. While Peter goes through the check out I picked up colorful fruits and veggies to show Owen. Big round watermelon, red tomatoes, long cucumbers, red, yellow and green bell peppers. He's favorite remains to be flowers. A retired couple walked by as Owen admired the sunflowers. They happily offered to take our pictures. I got a selfie instead.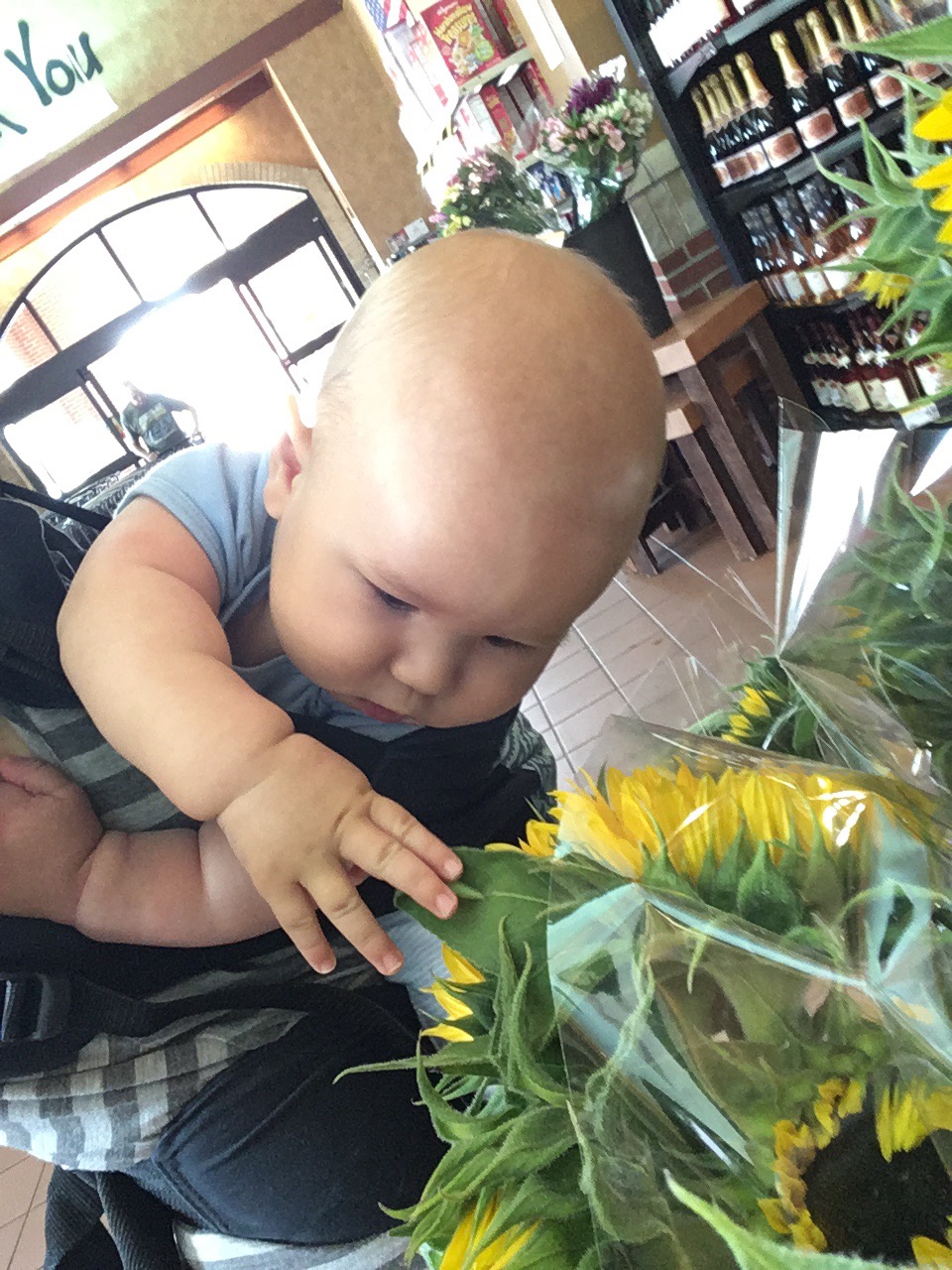 Owen started to get tired on our drive home. He continues to be unable to sleep in the car seat and fell asleep as soon as we got back home. By then our neighboor-friends had decided to stay home for the eclipse. They invited us over to their place for the viewing since they had an unobstructed view of the sun (except partially by the moon) and proper viewing glasses. Owen was still fast asleep when the event started. I waited until after 2pm to pick him up from the bed and got to our neighboors place just before the maximum coverage of 80% at 2:42pm.
It was very bright outside during the entire eclipse. The difference in lighting at 80% is still a every settle one. Without prior knowledge of the eclipse I probably wouldn't have noticed any difference. We observed the event through both the glasses and our neighbor's homemade pinhole box. Through the glasses the sun appeared crescent shaped like a waning moon. The pinhole projection box was also very neat to look at (and probably a fun thing to make with a child)! All in all it was a fun little experience for my very first eclipse viewing. Peter suggested we should plan ahead for the next one in 2024.