The plan for the morning was to have Peter walk to a dental cleaning at 8:00am, then I drive by the dental office at 8:45 to stop Owen off on my way to my doctor appointment at 9:00, then work from home the rest of the day. Peter left the apartment at 7:30am and I logged onto my work computer with Owen in the exersaucer we got from the Buy Nothing group (he's not a fan). Just as I got him ready to go at 8:35 I received a call from the dentist: "hi, your husband had a dental cleaning here at 8. We think he might have had an allergic reaction and is now at the hospital."
"What? You mean he was transported to the ER via ambulance?"
"Yes, he tried to call you. He passed out on the chair. We don't have more information. You will need to contact the hospital."
Okay, that didn't go as planned!
I got nervous for a moment but not freaking out since Peter is in good health and don't have any allergies we know of. A couple of texts came in from Peter saying he's at the ER for evaluation but is doing ok. I asked if he wanted Owen and I to come immidiately. He said no. I sent a quick email to work to let them know I might be out for the day. I called our neighbor friend to let her know our emergency situation while loading Owen into the car. She told me to keep her posted if we need anything. I called Peter to tell him I'm going to take Owen to my doctor appointment first and then come by the hospital to get him. He sounded a little out of it but ok. I really needed to see the doctor for that old spleen infection since it's been overdue and I'm feeling some pain again in that area.
The same doctor has been treating my infection and hearing about Owen since he was five weeks old. It's nice that she finally got to see him for the first time. I wore Owen in the front carrier for most of the appointment, laid him next to me for the doctor to examine my back and abdomen. Owen was very well behaved as usually. He watched everything quietly and calmly, only tried to grab the stethoscope when she listened for my heart and lungs. "He's so alert!" the doctor said. I like that.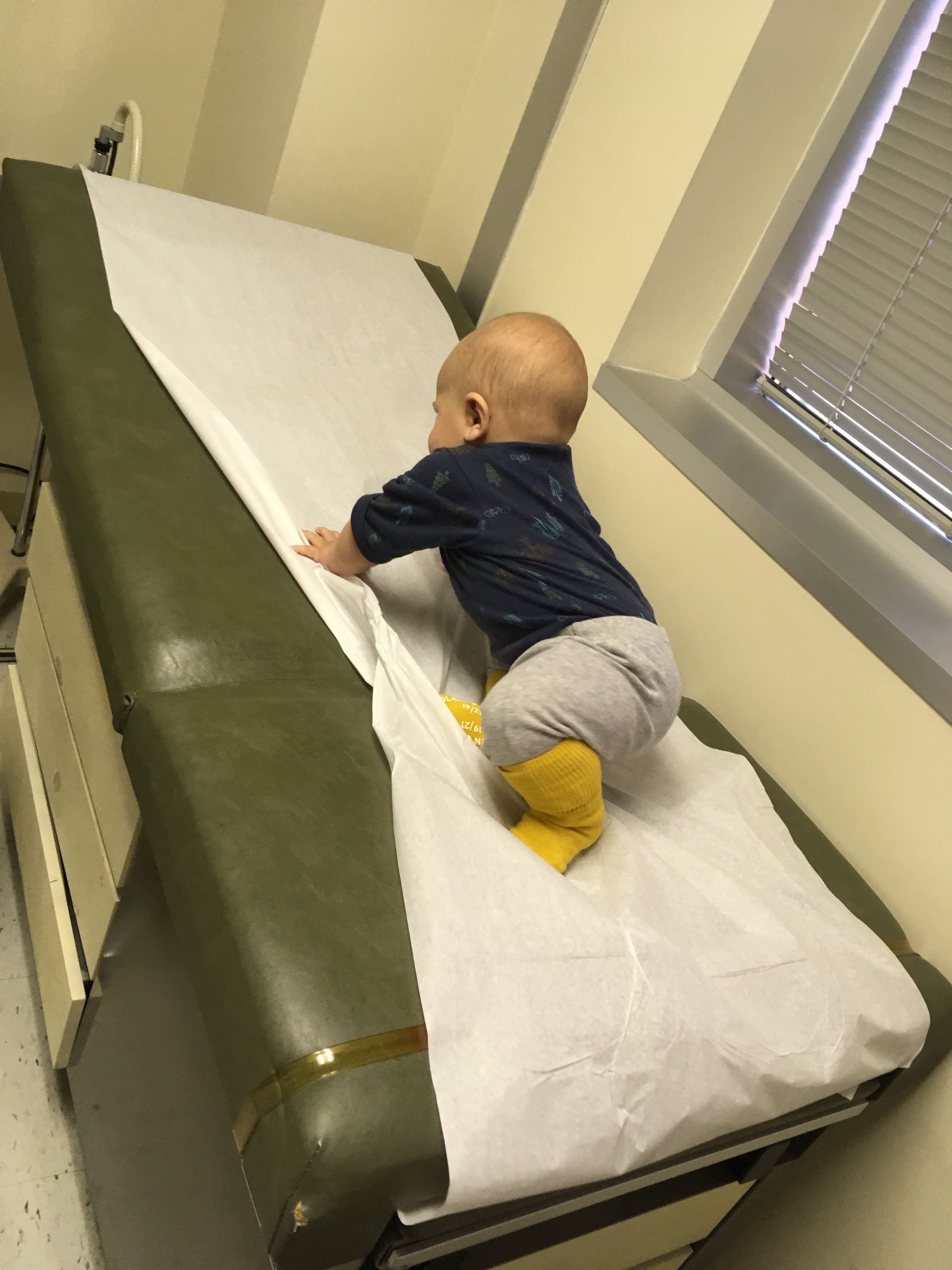 The doctor suspected that I have a damaged cartilage in my lower rib that's causing the pain, not an issue with the spleen. That was my original myself diagnose when I first felt the pain after the c section! Just to be sure it's really just a bruised rib this time, the doctor ordered a blood test there at the office and an abdominal ultrasound and a chest c-ray to be done later at a hospital. Once again, I held Owen in the carrier with my left arm as the nurse took blood from my right arm. I was a little worried that he might move suddenly with the needle in my arm but he stayed perfectly still the whole time, watching closely on everything the nurse was doing. "Did you learn how to do that Owen?"
By the time I was done at my doctor appointment, Peter had also gotten results back from his blood tests at the ER. Everything looked normal. I told him I was on the way to pick him up. Owen continues to not enjoy the car ride. He cried and called out momomo from the car seat. I had nothing for him except to tell him that "mama is here" my default response whenever he's upset near me. He became quiet as I got close to the hospital. Peter was already waiting for me outside with his discharge paper. "Are you ok? What happened?" He looked shaken but ok. "I felt strange and was dreaming. They said I was only out for 15 seconds but it felt like hours."
Owen had fell asleep in the car. I transported him to the bed and told Peter to lay down to rest as well. I logged back on to work and made tea for both of us. The apartment felt peaceful. Glad my work has been slow this week and glad everyone is ok.
The two boys posed for a picture with their flamingo shirts after dinner. I got Peter the shirt thinking it might be something fun for Owen to see. Owen got his shirt for his six months birthday from his grandparents. Both of them are cute.